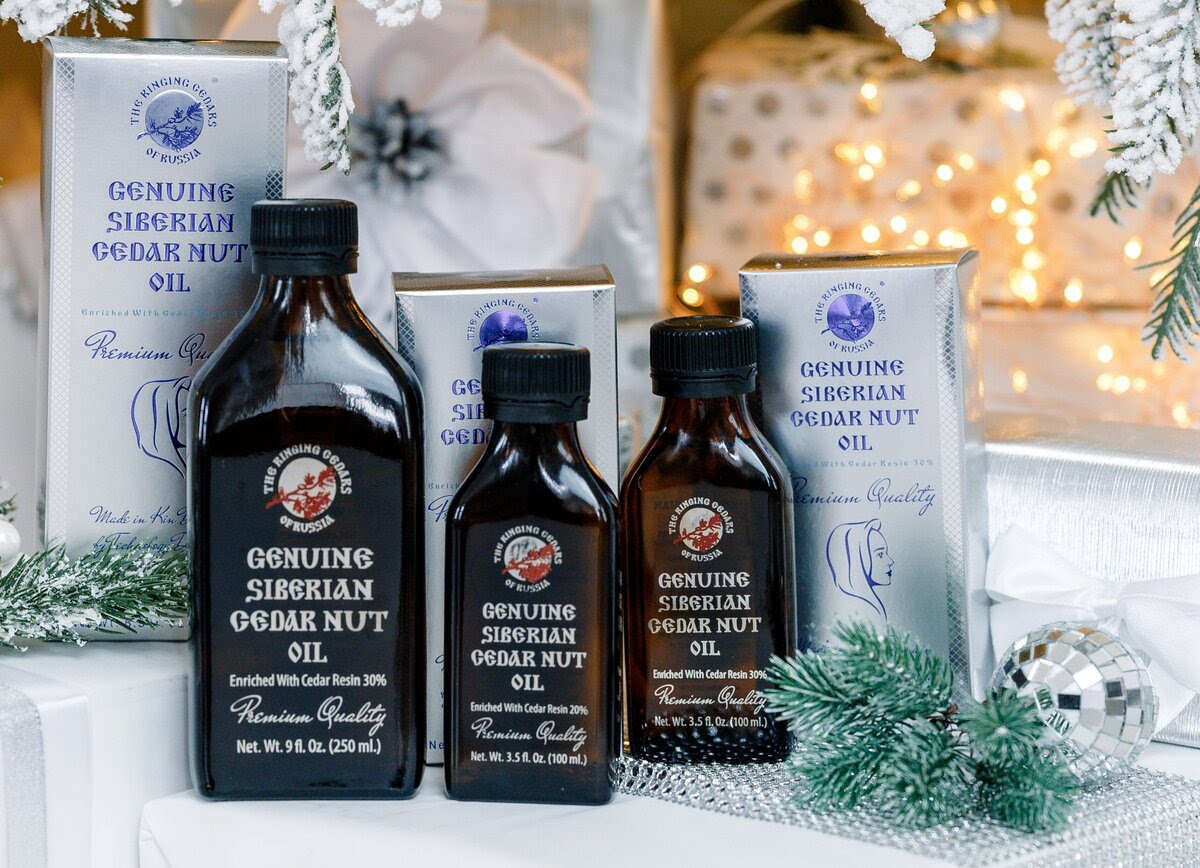 Christmas is coming soon! It's time to choose gifts for your loved ones. For older people, the most valuable gift is taking care of their health. Siberian Pine Nut Oil products are just such a gift! You can choose a specific product depending on the health characteristics and needs of a relative.
Cedar nut oil for active longevity
Pure cedar nut oil is a source of vitamins, minerals, amino acids, and fatty acids. The complex action of these nutrients allows a person to remain active at any age:
- Amino acids provide energy, help sleep better, and speed up recovery after stress or physical exertion.
- Polyphenols and Omega-3s affect the rate of telomere division, thereby slowing down the rate of aging at the genetic level.[1]
- Alpha-linolenic and linoleic acid prevents the development of inflammation that is associated with many age-related diseases - from arthrosis to cataracts.
Terpene balsam for youthful skin
Cedar resin is rich in terpenes that are very beneficial for the skin. Terpene balsam:
- Provides deep hydration when applied topically.
- Prevents the appearance of deep wrinkles and mimic wrinkles.
- Speeds up the healing of scratches, burns, and bruises.
- Is an effective preventive and therapeutic agent for various skin diseases, including psoriasis and dermatitis. For prevention, terpene balsam should be taken orally. For treatment you should apply it on the affected areas of the skin.
Another important component of terpene balsam is succinic acid. Recent studies have shown that succinic acid is a preventive agent for certain types of cancer, including ovarian cancer and kidney cancer. [2] [3]
Cedar nut oil enriched with sea buckthorn for vision
This product combines the beneficial properties of two Siberian superfoods. Cedar nut oil enriched with sea buckthorn is suitable as a gift for:
- Women. This remedy is a prophylactic agent for many gynecological diseases. Its beneficial effect on the hormonal background makes cedar nut oil with sea buckthorn an indispensable remedy for menopause.
- Those who are concerned about their eyesight. Diseases such as cataracts and glaucoma can significantly reduce the quality of life of an older person. Cedar nut oil and sea buckthorn prevent vision problems because they contain vitamins E and C, calcium, and cobalamin.
Cedar nut oil and products based on it are the best gift for the New Year! They prevent the development of dozens of diseases and help lead an active and healthy life, regardless of age.