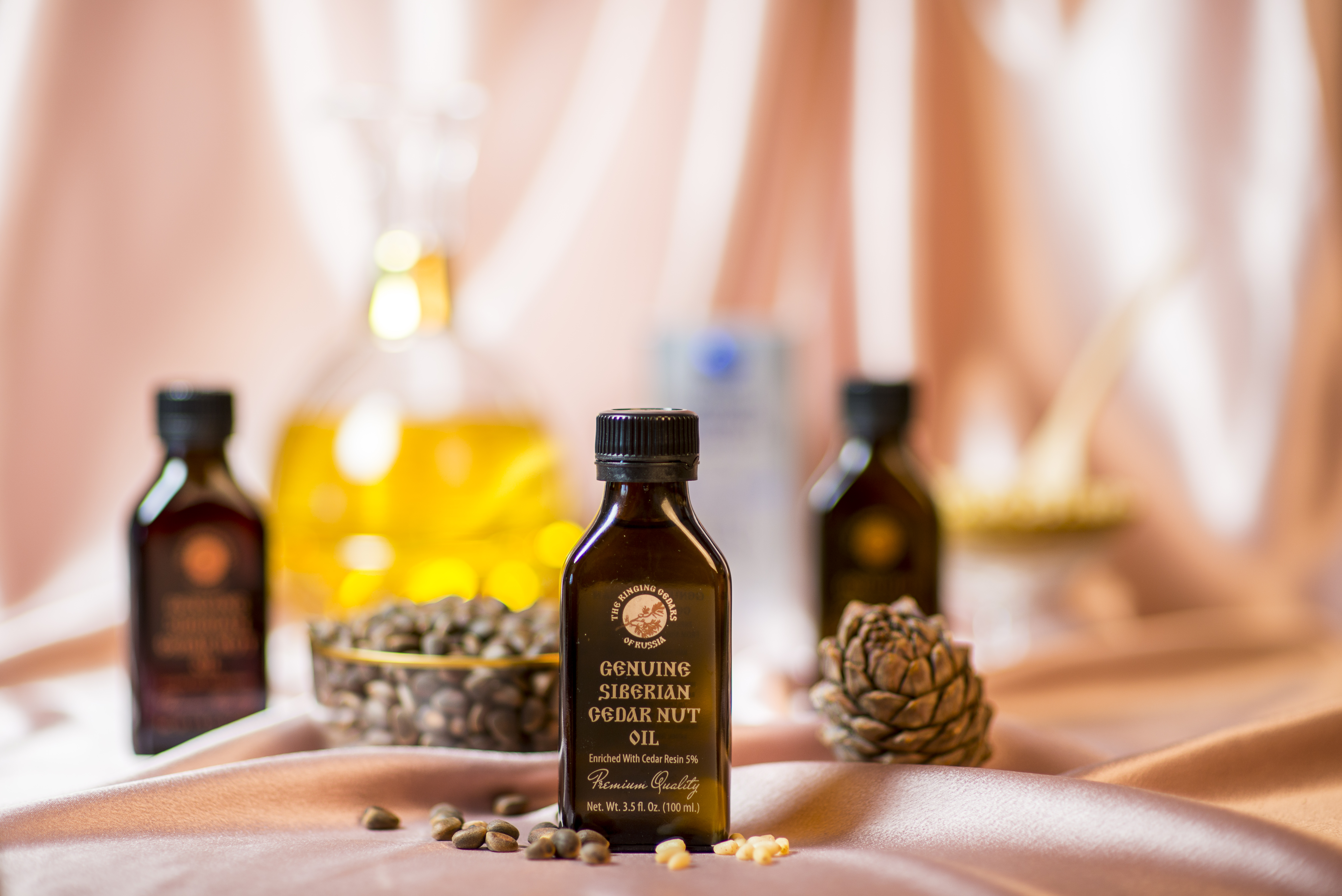 Cedar nut oil enriched with cedar resin is a universal remedy for maintaining health and preserving natural beauty for many years to come. Due to the rich vitamin and mineral composition, a large amount of amino acids and fatty acids, as well as terpenes, when applied externally, cedar nut oil enriched with cedar resin (resin extract):
- eliminates inflammation on the skin,
- helps maintain skin hydration,
- prevents early aging,
- strengthens hair and makes them thicker.
Resin extract against skin inflammation
All skin diseases are accompanied by inflammatory processes. In addition, the skin can react with local inflammation to an unfavorable environment.
Cedar nut oil enriched with cedar resin is rich in unsaturated fatty acids that reduce the level of inflammation at the molecular level by regulating the activity of the most important pro-inflammatory cytokine — interleukin-1 (IL-1). [1] Cedar resin contains antiseptic substances: terpenes, esters, and alcohols. A number of components of the terpene balsam promote accelerated healing of skin areas damaged due to inflammation (retinol, zinc, copper, and vitamin C).
Resin extract moisturizes the skin and prevents early aging
With age, the loss of moisture from skin cells increases. New collagen and elastin fibers are not produced. Due to these processes, the tone and elasticity of the skin is lost, fine line wrinkles appear and become deeper over time.
Cedar nut oil enriched with cedar resin restores the skin's natural hydro-lipid barrier. Amino acids lysine and threonine are involved in the synthesis of collagen and elastin, making the skin more elastic. Methionine neutralizes free radicals, thereby reducing the rate of aging. Succinic acid prevents the breakdown of collagen and accelerates metabolic processes at the cellular level. [2]
To relieve inflammation, accelerate regeneration, and prevent early aging, wipe the skin of the face with resin extract three times a day.
Resin extract for hair
Cedar nut oil enriched with cedar resin can also be used in hair care. Resin extract increases blood flow and improves microcirculation, due to which hair follicles are activated and the hair becomes more lush. The anti-inflammatory properties of cedar resin and cedar nut oil prevent increased hair loss, and the rich vitamin and mineral composition nourishes the hair, strengthening it.
You can prepare a hair mask based on resin extract by mixing the extract with other natural ingredients: dairy products, herbal infusions, and so on.
Use cedar nut oil enriched with cedar resin in your skin & hair care and stay beautiful, young, and self-confident!