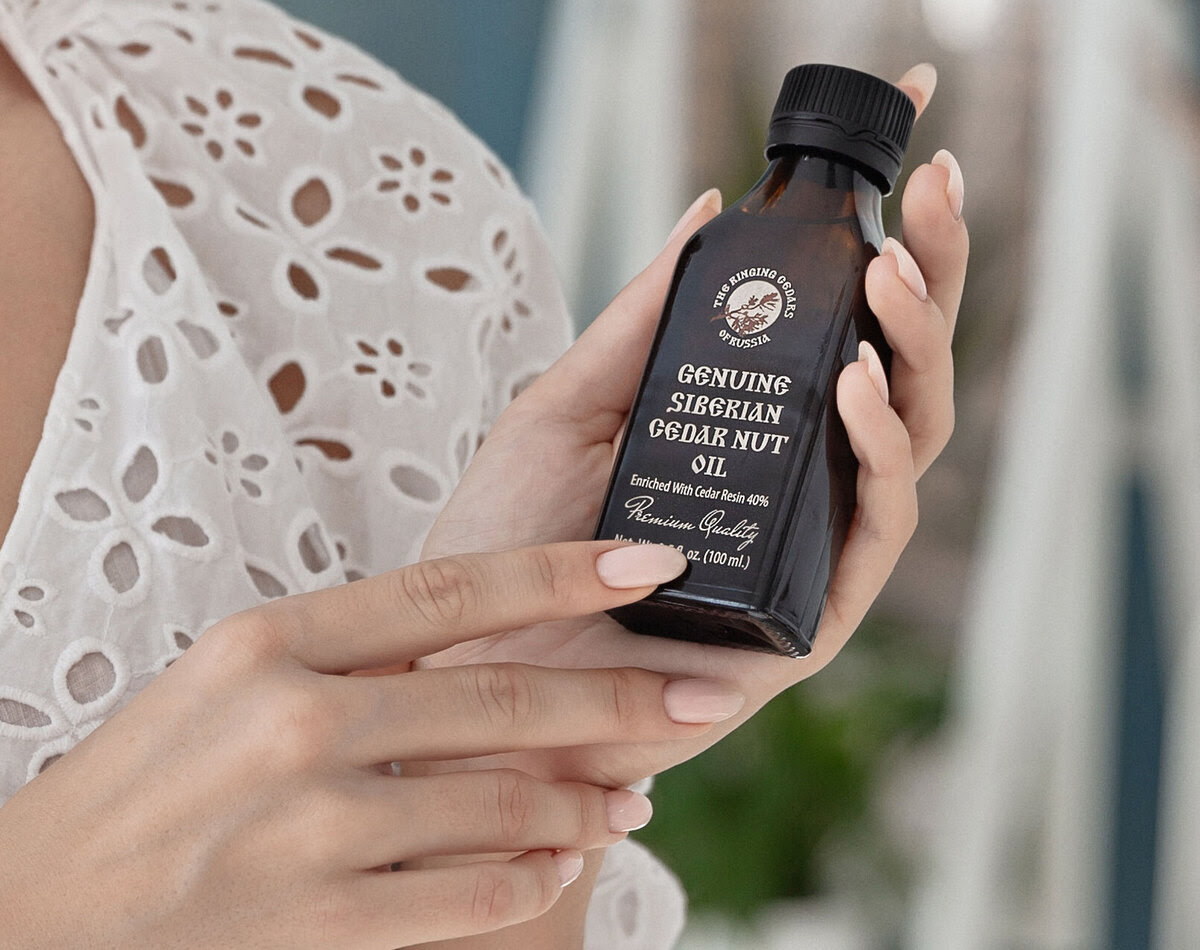 Cedar nut oil enriched with cedar resin is a multifunctional natural remedy that helps with many diseases. Its healing qualities are associated with a large number of vitamins, minerals, fatty acids, amino acids, and other important and rare nutrients. One of these nutrients are terpenes, the main component of resin. In the human body, terpenes are either intermediate or initial links in the synthesis of cholesterol, squalene, sex hormones, steroid hormones, enzymes - that is, all substances necessary for healthy life.
Terpenes have a wide range of medicinal properties, such as anticarcinogenic, antiseptic, anti-inflammatory, and antimicrobial effects. In 2022, a report was published that indicates a pronounced hepatoprotective effect of terpenes.[1] Experts from the Institute of Organic Chemistry concluded that terpenes contained in cedar protect and restore liver cells. They are effective even in stressful situations, for example, after severe alcohol intoxication.
Why are terpenes effective for humans?
Terpenes are a broad class of secondary metabolites found in many plants and trees. These are protective substances that keep cells in a stable state even when adverse conditions occur. Terpenes can be called a plant cell stress hormone.
A plant cell has a similar structure to an animal or human cell. Therefore, what protects the plant cell cannot but have an effect on human cells. Scientists used this idea for their scientific developments. They proved that terpenes support the functioning of the liver, an organ that performs the main protective functions in the body, removing any toxins and pathogens.
How did scientists confirm the hypothesis?
In order to prove the hepatoprotective properties of terpenes, scientists conducted an experiment. Within a month, rats were injected with ethanol diluted with water and terpene-containing preparations. Scientists have found that under the influence of terpenes in rats that received regular ethanol intoxication, blood biochemical parameters normalize, the severity of damage to liver cells decreases, and the mass coefficient of the liver decreases.
"Alcoholic liver damage is just one of the models of adverse effects. Our research shows the promise of using terpenes to protect the liver from any toxic effects, for example, due to malnutrition, chemotherapy, long-term use of drugs, and any viruses," the authors of the study noted.
Terpenes, showing high pharmacological activity, do not have undesirable side effects on the entire body and do not create a pharmacological load. They protect and repair liver cells without the collateral damage that most drugs do.