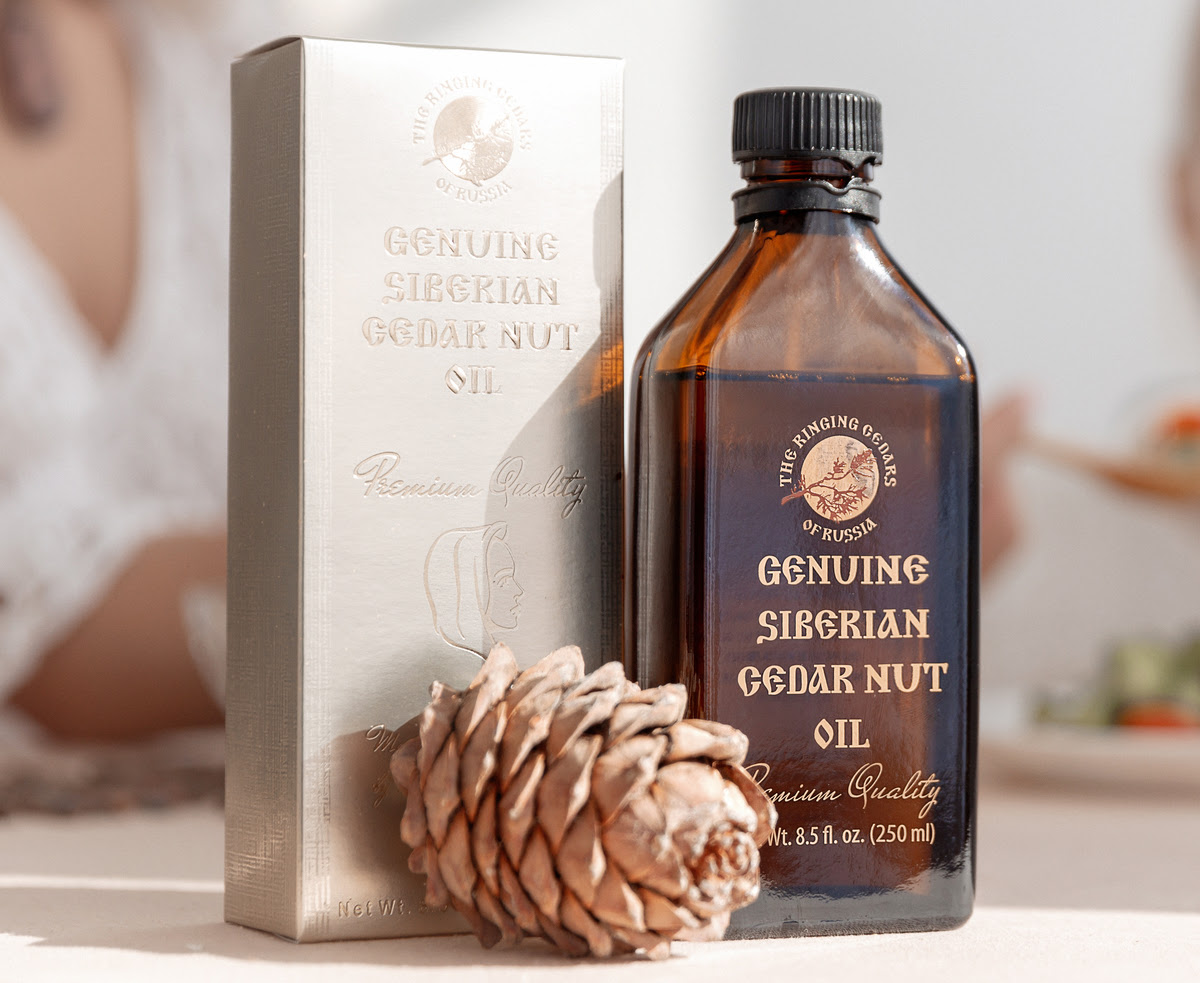 Cedar nut oil contains a large amount of healthy unsaturated fatty acids. Among them, pinolenic acid stands out: this is a rare component that is found only in coniferous plants of the Pine family (Pináceae), while the highest concentration was found in seeds (nuts). From cedar nuts, pinolenic acid enters cedar nut oil, transferring its special healing properties to it.
Research over the past decade has proven that pinolenic acid is effective in controlling appetite and weight loss, preventing gastrointestinal diseases (including ulcers and gastritis), and increasing immunity against bacterial and viral infections.
Weight loss
Several experiments at once showed that pinolenic acid stimulates the release of special hormones - Cholecystokinin (CCK) and Glucagon-like peptide-1 (GLP-1). [1] [2] These hormones play an important role in a number of processes associated with weight gain and loss:
- Improve insulin sensitivity, thereby preventing metabolic disorders.
- Affect the stomach, pancreas, and central nervous system to speed up the onset of satiety when eating. As a result, portion sizes are reduced.
- Reduce appetite, thereby increasing the effectiveness of any diet. [3]
Thus, the effect of pinolenic acid on specific hormones makes cedar nut oil an ideal dietary supplement for weight loss.
Protection of the gastrointestinal mucosa
Scientists have obtained evidence that, due to the content of pinolenic acid, cedar oil enhances regenerative processes in the stomach and intestines. It removes or reduces the degree of inflammatory reactions of the mucous membrane, due to which it is effective in the treatment of:
- erosive and ulcerative lesions of the duodenum and stomach
- chronic pancreatitis
- superficial gastritis
- complications after resection of the stomach.
"Treatment with PLA dramatically inhibited lipid accumulation, oxidative stress as well as inflammatory responses," note the authors of one such study. [4] This is due to the acid's effect on the AMPK/SIRT1 signaling pathway.
Immunity Boost
The beneficial effect of pinolenic acid on the gastric and intestinal mucosa makes it a potential agent for improving immunity, since the microflora of the gastrointestinal tract is one of the most important elements of immune defense. [5]
In addition, the strengthening of immunity occurs due to the hormone CCK mentioned above. An increased level of CCK increases the level of IgA in the intestine, which increases mucosal immunity and, as a result, provides increased protection against infection of the body by bacterial or viral infections. [6]
Thus, the health benefits of cedar nut oil, such as reducing appetite, improving glucose tolerance, preventing gastrointestinal diseases, and improving immunity, are associated with rare pinolenic acid.