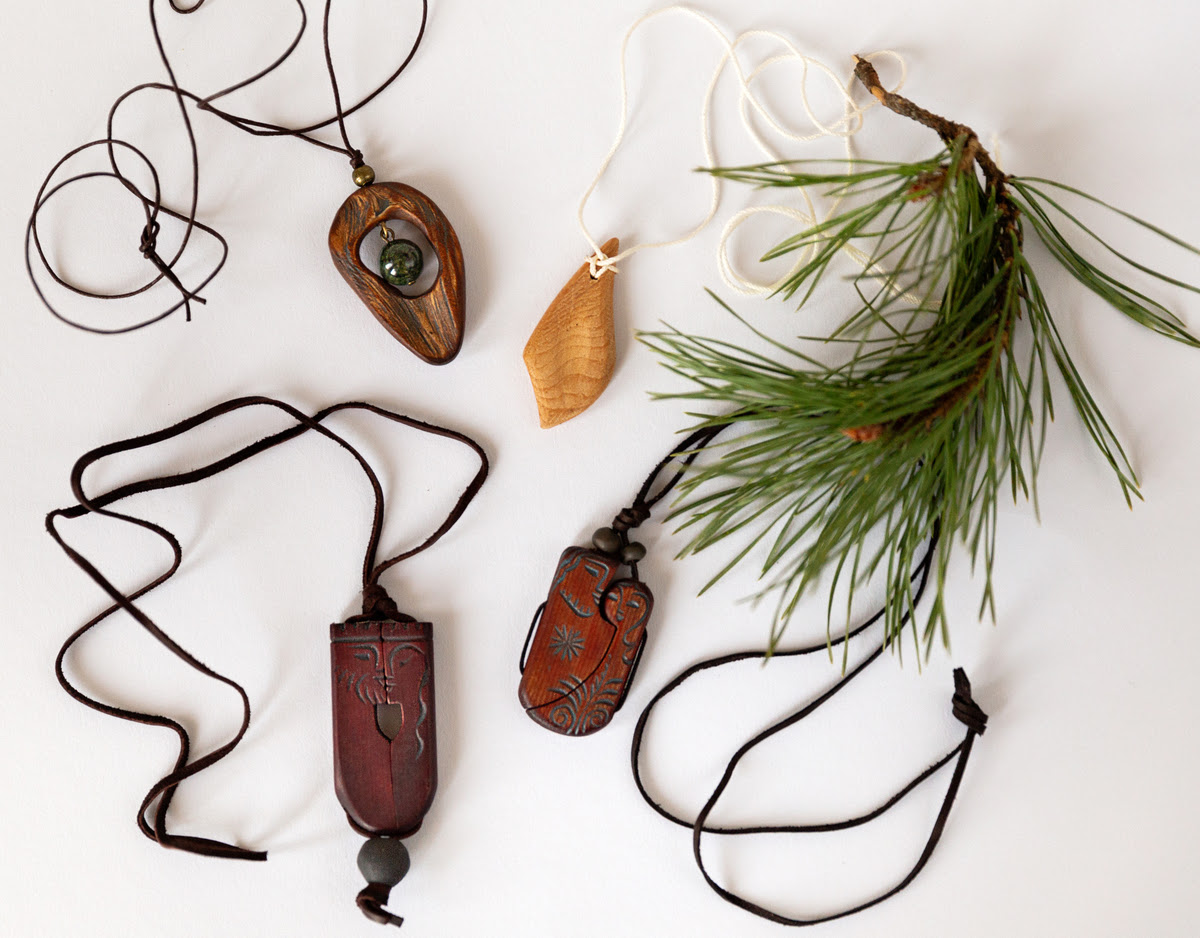 "Those who wear a small wooden cedar morsel on their chest evoke feelings of love and goodwill in themselves and others."
Anastasia
Amulets made of cedar wood are a symbolic, beautiful, and unusual gift for Christmas. They carry the healing and protective power of cedar. In addition, each of the amulets has a special sacred meaning.
Eternal love amulet
| | |
| --- | --- |
| The two halves of this amulet are male and female figures. They are tied together by a knot and with a single heart. This amulet was created based on the Siberian legend about two lovers. Their parents wanted to separate them. To be always together, the lovers turned into two rivers that merge into the Ob, the largest river in the region. So they were able to make their love eternal. | |
The Soulmates amulet
| | |
| --- | --- |
| | Another embodiment of love and unity is the Soulmates amulet. It is a combination of female and male figures. The symbol of the Sun is carved on the male half. It denotes strength, victory, confidence, and the protection of loved ones. A plant is carved on the female figure: a symbol of procreation and growth. On the reverse side of the amulet is a single heart for two persons. |
Cedar Root Pendant
| | |
| --- | --- |
| A unique amulet created by Nature itself. Each of these amulets undergoes minimal processing and comes to you almost in its original form. The choice of pieces of wood for amulets is done by a family living in the family estate «Sunny Meadow». Dmitry and Anna treat trees with care and respect, preserving all the healing power and wisdom of cedars in amulets. | |
Cedar Wood Amulet with listvenite
This amulet combines the power of two natural wonders:
- 400 year old cedar. Any part of this tree has powerful healing and protective properties. The constant wearing of cedar products strengthens the immune system, prevents the development of many diseases, and helps to cope with stress.
- Listvenite. This natural mineral has a positive effect on the mental state of a person. It removes phobias and anxiety. In addition, this mineral symbolizes success and prosperity.
Which amulet to choose?
For those you love, the best gift is The Soulmates amulet or Eternal Love. Such an amulet is a declaration of love, a promise of fidelity and devotion. This is not just a symbolic gesture: cedar wood will protect your loved one and give him peace of mind.
If you are looking for an unusual piece of wooden jewelry that has no analogues and is created by Nature, then choose the Cedar Root Pendant. It suits people with refined taste, those who subtly feel the world around them.
If the healing properties of Cedar are important to you, then your choice is Cedar Wood Amulet with listvenite. This amulet is a great gift for a friend, mother, or grandmother. It is not only good for health, but also is a bright and eye-catching accessory.