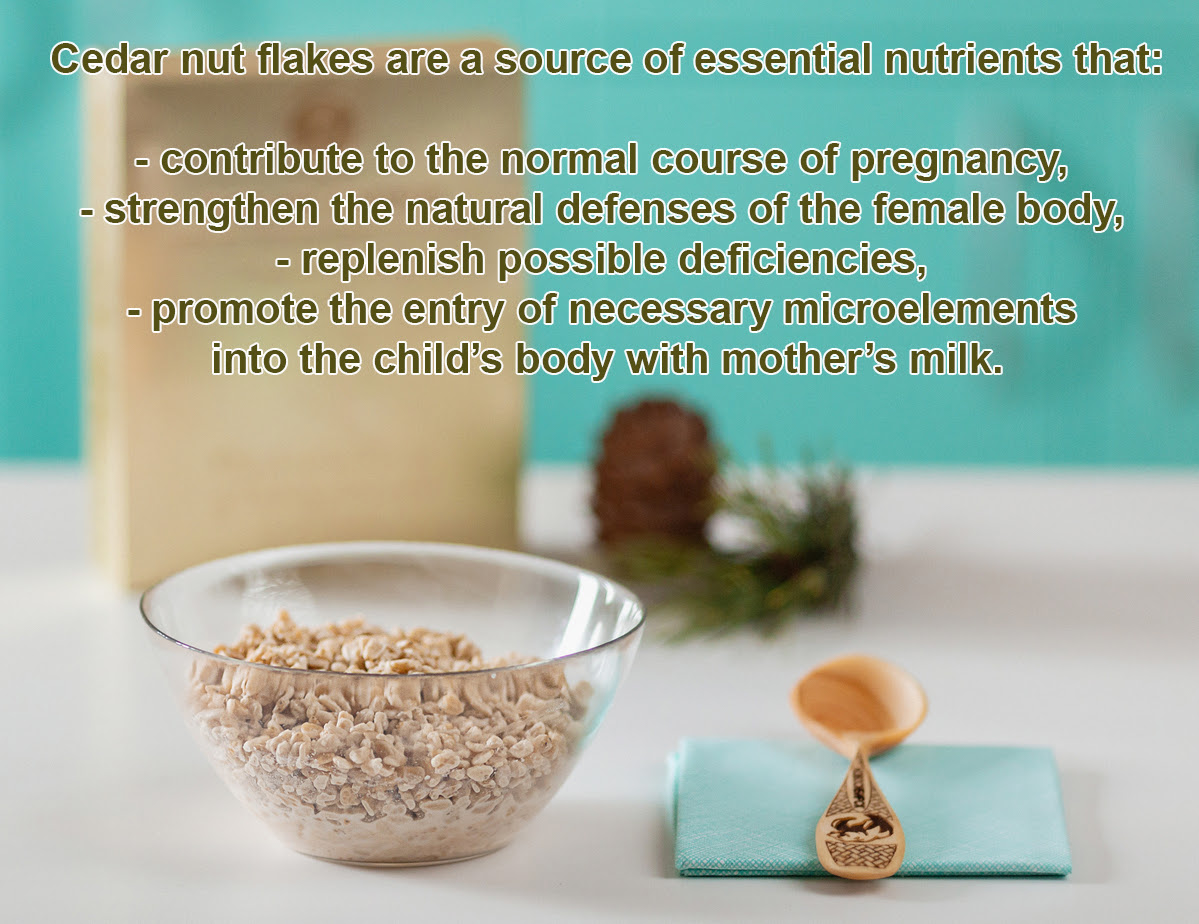 Pregnant and breastfeeding women have special needs for nutraceutical support. Cedar nut flakes are a source of essential nutrients that contribute to the normal course of pregnancy, strengthen the natural defenses of the female body, replenish possible deficiencies, and promote the entry of necessary microelements into the child's body with mother's milk.
Cedar nut flakes for pregnant women
The most well-known and backed by numerous studies recommendation for pregnant women is to consume enough folic acid (vitamin B9). [1] It prevents neural tube defects in the baby, and this vitamin should be taken at the planning stage of pregnancy, since it is especially important in the first trimester. If you are planning to become parents, add cedar nut flakes to your diet: they are an excellent source of folic acid and other B vitamins.
Also, the body of pregnant women needs protein (amino acids). Amino acids are necessary for the synthesis of immune system antibodies, hormones and enzymes, for the normal functioning of muscle tissue, and for oxygen transport. During pregnancy, a woman's body changes. It must provide everything necessary not only for itself, but also for the growing baby. Therefore, your need for protein increases during this time. Cedar nut flakes contain more than 10 amino acids, many of them in concentrations close to 50-100% of the daily norm. By eating cedar nut flakes for breakfast as a substitute for muesli, adding it to salads and smoothies, you protect your body from negative external influences and strengthen its immunity, thereby contributing to a healthy and easy pregnancy.
Cedar nut flakes during lactation
Even if you did not experience additional needs for microelements during pregnancy, after the birth of your baby, their deficiency may appear immediately in connection with breastfeeding the baby. Cedar nut flakes contain the following nutrients important for a nursing woman [2]:
- Zinc takes part in the production of protein, the main building material for the body.
- Magnesium regulates the functioning of the nervous system, which is important both for the child and for the mother, who often faces stress.
- Vitamin A is important for the proper development of the child's vision.
- Group B vitamins. This group contains a number of essential substances that are involved in energy exchange, DNA synthesis, the formation of the nervous system, the maintenance of blood cells, and other important processes for the harmonious development of the baby. A deficiency of this group of vitamins can cause a child to become hyperexcitable or cry for no apparent reason.
- Tocopherol. Its role is cellular respiration and maintaining energy exchange. A deficiency can lead to bloating in the baby.
Take care of your health and the health of your child by simply adding cedar nut flakes to your diet!