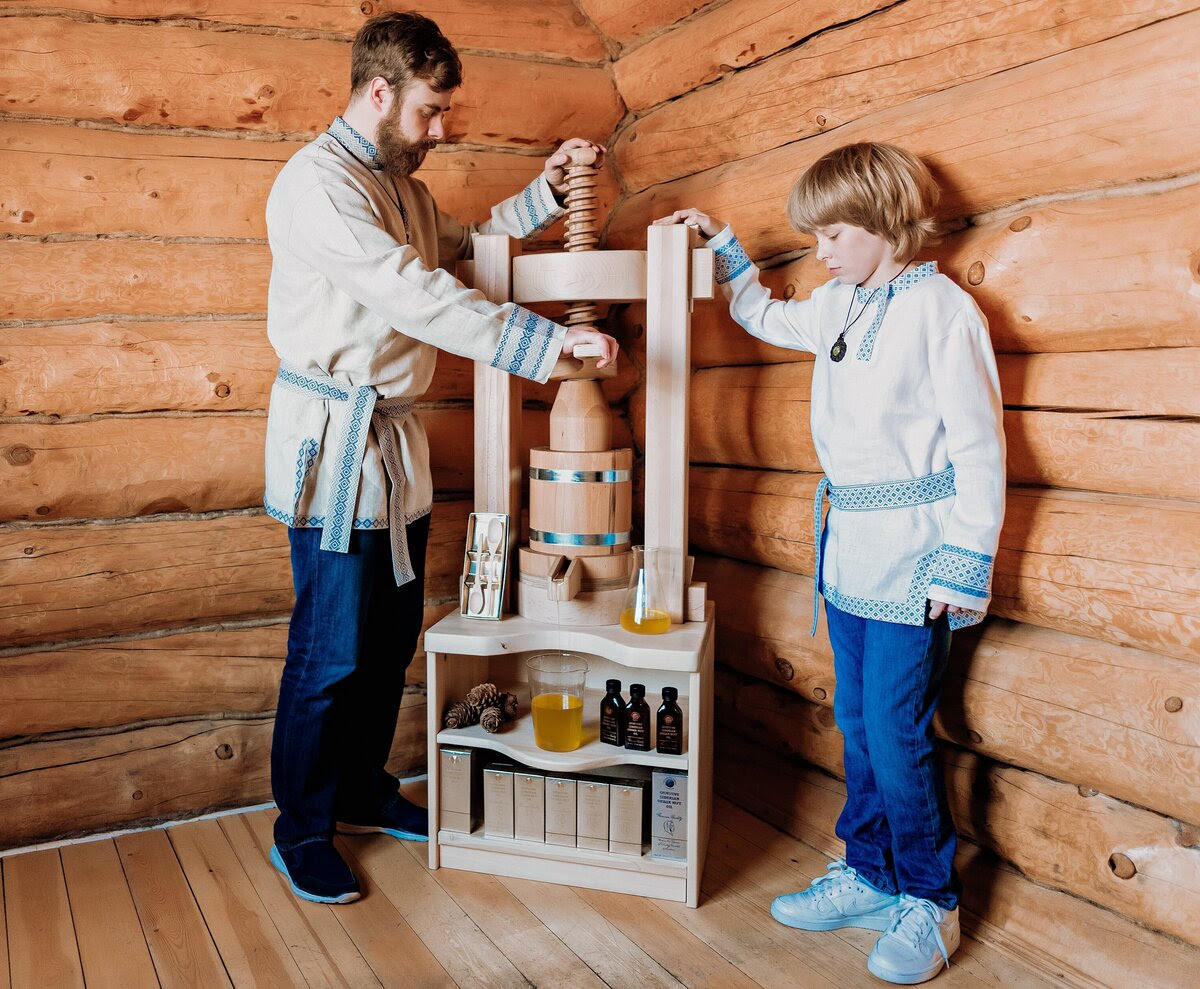 The healing properties of cedar nut oil directly depend on what raw materials are used and how it is produced. The products of the Ringing Cedars of Russia brand meet the strictest criteria of environmental friendliness and organicity, due to which they contain the maximum amount of beneficial nutrients. Let's take a look at how selected cedar nuts are turned into the oil.
Collecting nuts
Scientists have found that the percentage of beneficial substances in cedar nut oil varies depending on the region where the pine tree grows. Siberian cedar nut oil is the richest in tocopherols; it is several times higher than Korean, Italian and Turkish cedar nut oil. [1] It also contains an optimal ratio of Omega-3 and Omega-6 (close to the required ratio of 1:2), while, for example, for Italian cedar this ratio is 1:10. [2]
We collect cedar nuts in the Siberian taiga, where the impact of human activity on Nature is minimal. Here the trees grow in their natural environment, are not fertilized, and receive the purest water from the soil. An important criterion for the benefits of the final product is the harsh Siberian climate: during the long Siberian winter, plants accumulate a huge amount of useful substances.
The collection is done manually, which guarantees the highest quality of raw materials. We also collect only absolutely ripe cones that have fallen from the tree themselves. We do not speed up collection by using hammers or sticks to knock the cedar cones off the tree. So we do not harm the tree and get only 100% ripe nuts. The absence of unripe nuts guarantees a soft taste of the oil, without any bitterness.
Production
Our cedar nut oil is obtained in the most gentle way — cold pressing on wooden presses. Since the product is not subjected to heat treatment and does not oxidize, the chemical compounds it contains (vitamins, minerals, amino acids, and fatty acids) are not destroyed and remain in the form and quantity in which they are contained in the raw materials.
We do not use:
- dyes
- preservatives
- any chemical additives.
Our brand oil is unrefined and non-deodorized. Refining and deodorizing are methods by which other manufacturers achieve 100% homogeneity and transparency of the oil, the absence of sediment, and almost completely remove its natural odor. Such a product loses almost all its beneficial properties. In addition, it can even become harmful. For example, alkali is used for refining, the remains of which are removed with citric acid. Other methods of chemical exposure are also used, due to which carcinogenic glycidol esters are formed in the oil.
We do not use any chemical methods in the production of the oil. Thanks to careful selection of raw materials and the most natural production process, you get an organic product that retains all beneficial nutrients and does not contain harmful substances.