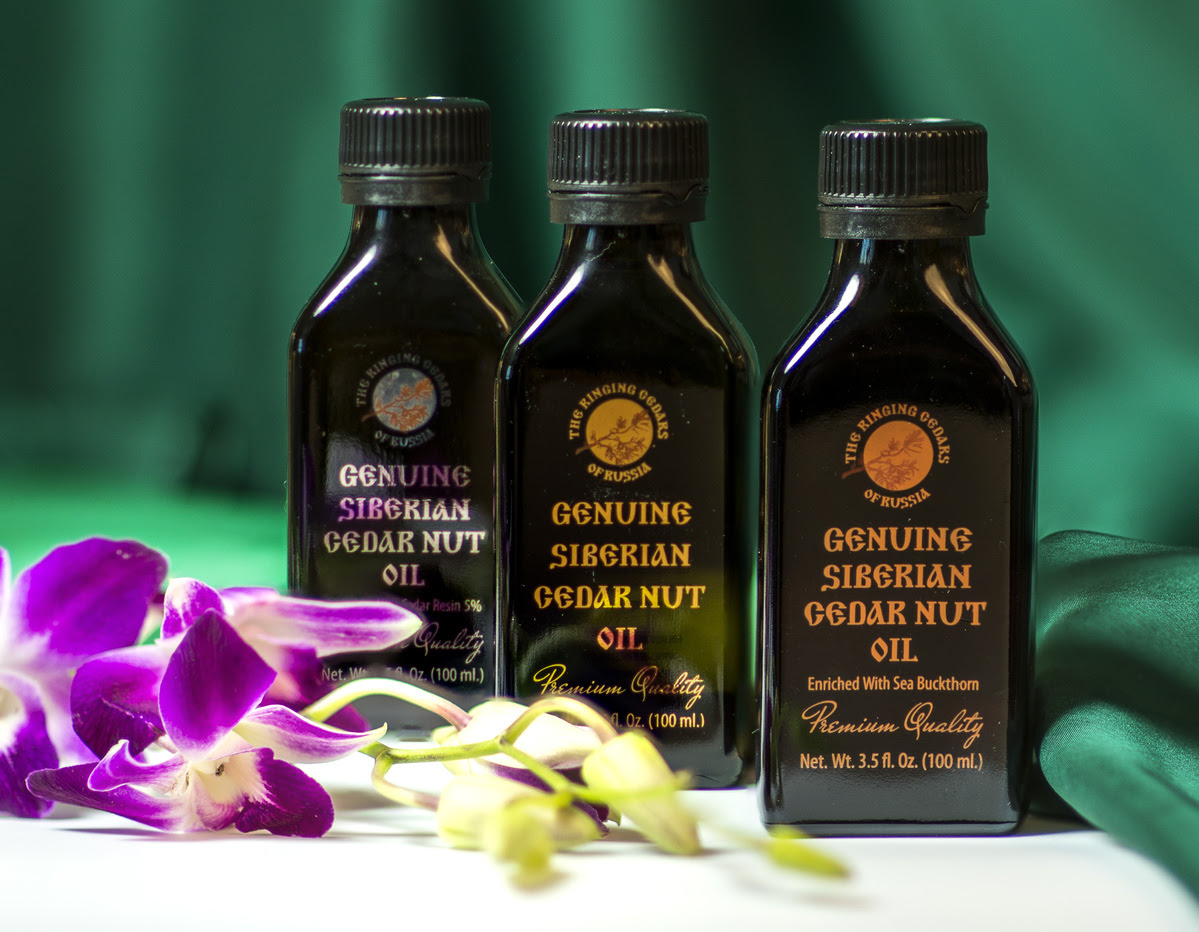 Cedar nut oil has a powerful tonic effect, is a prophylactic for many diseases and alleviates the condition if the disease has already appeared. Scientists have proven that cedar nut oil reduces the risk of developing diseases of the cardiovascular system, helps to cure stomach ulcers and gastritis, has immunomodulatory and antioxidant properties, has a positive effect on skin condition, contributes to weight loss, and helps in the management of diabetes.
Cedar nut oil improves heart health
Due to the high content of fatty acids, cedar nut oil normalizes cholesterol levels. When taken regularly, it reduces the level of "bad" cholesterol — a type of cholesterol that can clog the walls of blood vessels, thereby leading to atherosclerosis, heart attacks, and strokes. At the same time, the oil maintains a sufficient level of "good" cholesterol that ensures a healthy lipid metabolism. [1] In addition, cedar nut oil is useful for general vascular tone due to the fact that it contains retinol, tocopherol, and rutin. It also reduces diastolic and systolic blood pressure due to the fact that it contains Omega-3 — this property of the fatty acid has been confirmed by more than 70 scientific experiments. [2]
Cedar nut oil cures gastrointestinal ulcers
Gastric ulcer and gastritis are diseases associated with a violation of the integrity of the mucous membranes of the digestive tract and are accompanied by ongoing inflammation. Cedar nut oil contains nutrients that promote the rapid healing of any mucous membranes (folic acid, or vitamin B9, as well as retinol, or vitamin A). Alpha-linolenic and oleic acid reduce inflammatory reactions. The anti-inflammatory effect of alpha-linolenic acid was confirmed in an independent experiment held in 2021. [3]
Cedar nut oil boosts the immune system
The following nutrients are responsible for the immunomodulatory properties of cedar nut oil:
- Vitamin A
- Tocopherol (vitamin E)
- Oleic acid
- Zinc
- Magnesium
- Amino acid arginine.
All these trace elements are recognized as immunity boosters in official medicine. In particular, they became the objects of careful study during Covid-19 and confirmed their immunomodulatory properties.[4]
Cedar nut oil eliminates oxidative stress
Most age-related diseases, as well as early aging, are associated with oxidative stress, an oxidative process that affects healthy cells. During oxidation, harmful free radicals are formed. They negatively affect the state of the whole organism.
Each person has their own antioxidant defenses to scavenge free radicals and slow down oxidative stress. If any failures occur in this protection system, it is necessary to take vitamins and minerals that have antioxidant properties. These are antioxidant vitamins A and E, as well as selenium (contained in cedar nut oil).[5]
Cedar nut oil improves skin condition
Cedar nut oil can become a full-fledged replacement for any factory cream, having a positive effect on the skin both internally and externally. This is a completely natural remedy that improves several aspects of the skin condition at once:
- It activates and strengthens the skin's protective barrier
- It moisturizes the skin. At the same time it helps fight excess oil by regulating the production of subcutaneous fat.[6]
- It softens inflammatory reactions in various skin diseases, including acne.
Cedar nut oil assists in weight loss
Cedar nut oil is very effective as a natural dietary supplement: it helps speed up weight loss. This property is due to a rare pinolenic acid that is not found in other vegetable oils, such as olive oil. Pinolenic acid is involved in biochemical reactions that suppress appetite and accelerate the onset of satiety, thereby reducing the amount of food consumed. [7] Also, as mentioned above, cedar nut oil normalizes lipid metabolism. This affects the rate of metabolism allowing to quickly reduce the amount of visceral fat.
Cedar nut oil helps in diabetes management
Cedar nut oil is recommended to be used in a diet for diabetes. First, the oil has an extremely low glycemic index, close to zero. It is also a source of amino acids that stabilize blood sugar levels. Finally, oleic acid from the oil stimulates the production of a special hormone GLP-1 that has the ability to increase insulin secretion and normalize glucose tolerance. [8] Cedar nut oil has also been linked to a major factor in the development of diabetes — being overweight. Helping to achieve optimal weight while dieting, the oil prevents the development of diabetes and reduces the risk of any complications.
Cedar nut oil has a huge positive effect on the body. In addition to these benefits, it is also good for liver health, improves the condition of hair and nails, and speeds up recovery from respiratory diseases.
Regular intake of cedar nut oil is a huge contribution to health!