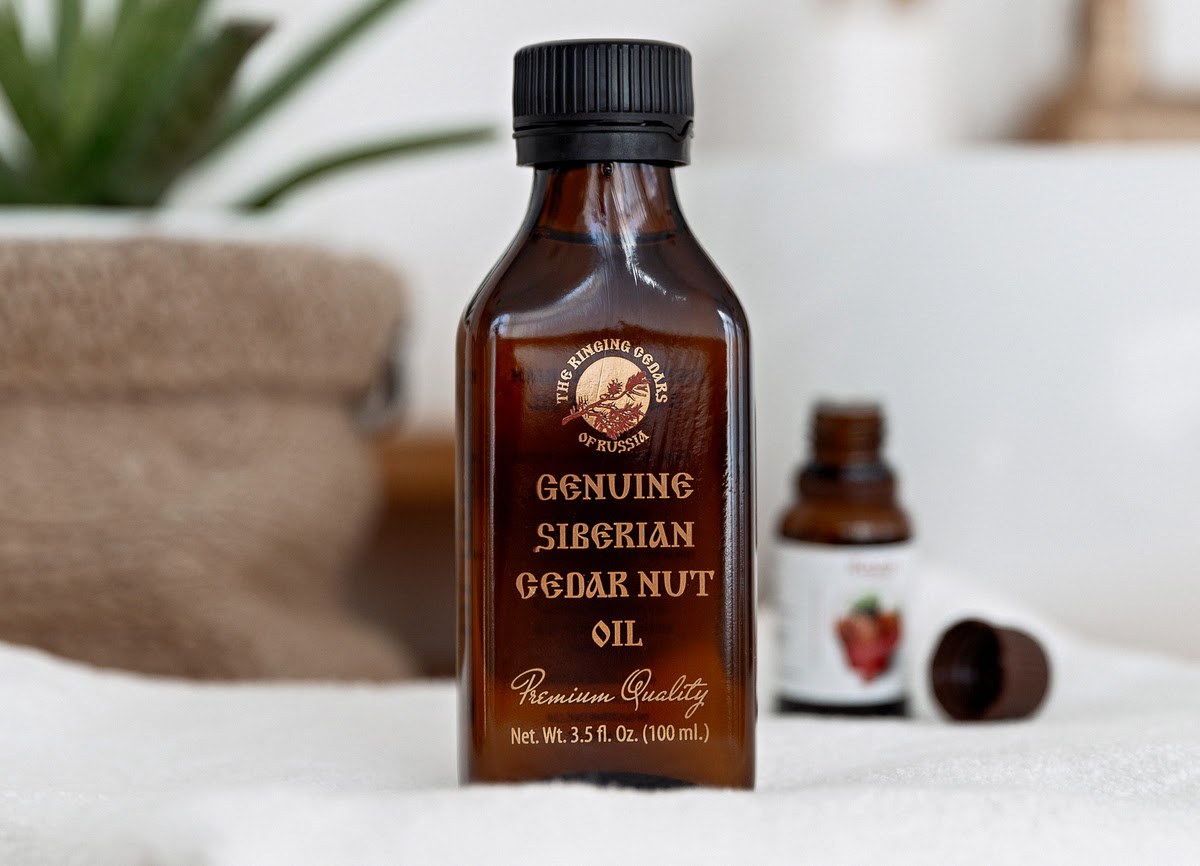 Cedar nut oil is a unique healing agent. Due to its 100% naturalness, it can be safely used both internally and externally. It is effective for the prevention and treatment of many diseases. The way how you use cedar oil determines its effect, so you must choose the right dosage regimen depending on your goals. In this article, you can find the most common ways to use cedar nut oil.
To achieve a general strengthening effect and maintain immunity, take 2 teaspoons of cedar nut oil with meals, three times a day.
For diseases of the gastrointestinal tract (stomach and duodenal ulcer, gastritis), take 1-2 teaspoons of cedar nut oil in the morning 30 minutes before meals and in the evening, two hours after the last meal (can be diluted with milk 1:1). To prevent gastrointestinal diseases, you can also add cedar nut oil to your diet as a salad dressing.
With atherosclerosis and other cardiovascular diseases, you should take 1-2 teaspoons of cedar nut oil once a day before meals. The same regimen can reduce the risk of developing problems with the heart and blood vessels. During an attack of arrhythmia or tachycardia, you can use cedar nut oil to alleviate the condition, in addition to the usual medicines: place 10-15 drops of the oil on your palm and massage into the heart area slightly below the nipple and up to the middle of the lateral line on the left.
For allergy sufferers, it is recommended to take cedar nut oil three times a day,a teaspoon before meals. If you have a seasonal allergy (for example, to flowering plants), start taking the oil a month before the allergen appears: this way you can avoid an aggravation.
For sore throat drip 5-6 drops of oil on the tonsils 4 times a day.
For skin diseases (eczema, psoriasis, diathesis, dry skin, including cracks in the skin of the feet), it is necessary to lubricate the affected areas with the oil twice a day and take it orally once a day in the morning, 1 teaspoon.
To speed up the healing of wounds, scratches, and bruises, moisten a clean cloth with cedar nut oil and apply a compress to the wound. Leave it for 3-4 hours.
For gynecological and proctological diseases, you can use vaginal and anal tampons soaked in cedar nut oil. Application time is 2-3 hours. If you have an exacerbation of the disease, we recommend that you first consult with your doctor.
Cedar nut oil is a remedy for the whole family, so you can give it to children from 1 year old. It is also harmless to pets, both externally and internally.
How do you use cedar oil and what positive effect on health have you achieved? Tell us by leaving a review on our site!