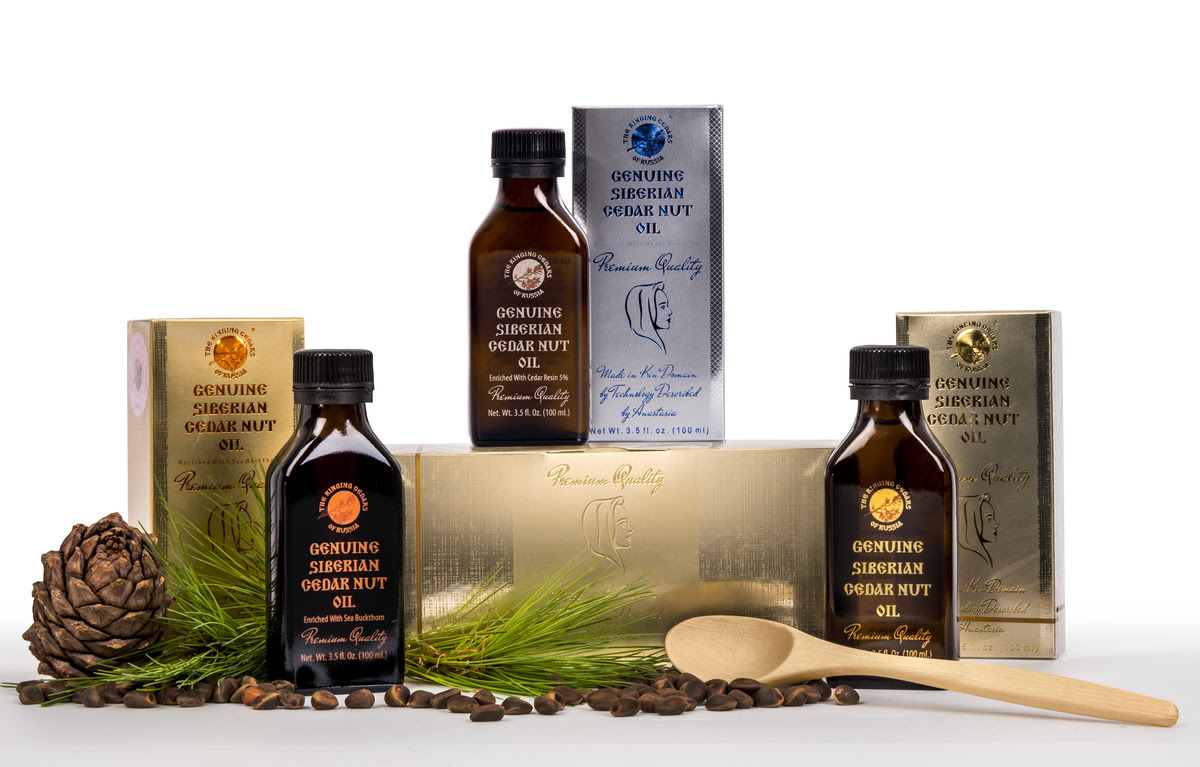 One of the most frequently asked questions that new customers ask us is: which is better, cedar nut oil or cedar nut oil enriched with cedar resin? There is no universal answer to it. The cedar nut oil benefits differ from those of resin extract, and there are specific uses for each of the products. We recommend using cedar nut oil for general rejuvenation and strengthening of the body, prevention of cardiovascular diseases, and as an aid in weight loss. Cedar nut oil enriched with resin is effective for the treatment and prevention of skin diseases, rapid healing of wounds, treatment of gastrointestinal diseases, and strengthening of joints.
Siberian cedar nut oil benefits
The composition of cedar nut oil includes not only vitamins and minerals, but also polyphenols, amino acids (including essential ones), and rare unsaturated fatty acids. These nutrients have the following effects:
- Rejuvenating effect. Antioxidant vitamins A and E protect the body from the negative effects of free radicals, thereby slowing down aging. Positive changes occur even at the genetic level: it has been found that the components of cedar nut oil slow down the shortening of telomeres, DNA sections whose length is directly related to longevity.[1]
- Cardioprotective action. Cedar nut oil not only slows down aging, but also prevents the development of many diseases associated with old age, for example cardiovascular diseases. Fatty acids, amino acids, magnesium, and zinc strengthen blood vessels, normalize blood pressure, and support heart health.[2]
- Normalization of metabolism, weight loss. Cedar nut oil is involved in dozens of metabolic processes: it improves lipid metabolism, increases insulin sensitivity, speeds up satiety, and reduces appetite.[3] Due to these properties, cedar nut oil can be used to increase the effectiveness of a weight loss diet.
Siberian cedar resin extract benefits
Resin extract is cedar nut oil enriched with cedar resin. It retains all the benefits of cedar nut oil and gets all the beneficial components from cedar resin. Especially important components are terpenes and succinic acid. Thanks to these nutrients, cedar nut oil enriched with cedar resin acquires the following properties:
Wound healing effect. Cedar resin has long been used in folk medicine for wound healing, and recent studies have shown that this property of the resin is directly related to terpenes. It accelerates skin regeneration and prevents wound infection. [4] In addition, cedar resin contains succinic acid that has a beneficial effect on the skin condition and is used in many cosmetic products. Cedar nut oil enriched with cedar resin helps with skin diseases such as acne, psoriasis, and dermatitis.
Cedar resin, as well as cedar nut oil, improves intestinal motility and heals the lining of the gastrointestinal tract. In resin extract, these two components provide a synergistic effect. Cedar nut oil itself is effective for the treatment and prevention of gastritis and ulcers, but the resin greatly enhances this effect.
Benefits for the joints. Cedar nut oil enriched with cedar resin is recommended for the treatment of arthritis and arthrosis. Cedar resin not only reduces inflammation, but also has a general strengthening effect on the joints.
In addition, cedar nut oil enriched with cedar resin is prescribed for respiratory diseases, as it has an expectorant effect. Recent studies have shown that cedar resin can help fight tumors: this is also due to the high content of terpenes. [5]
Both cedar nut oil and resin extract are incredibly beneficial for health. The best choice is to have both of these remedies on hand to use them in different cases and for different purposes.