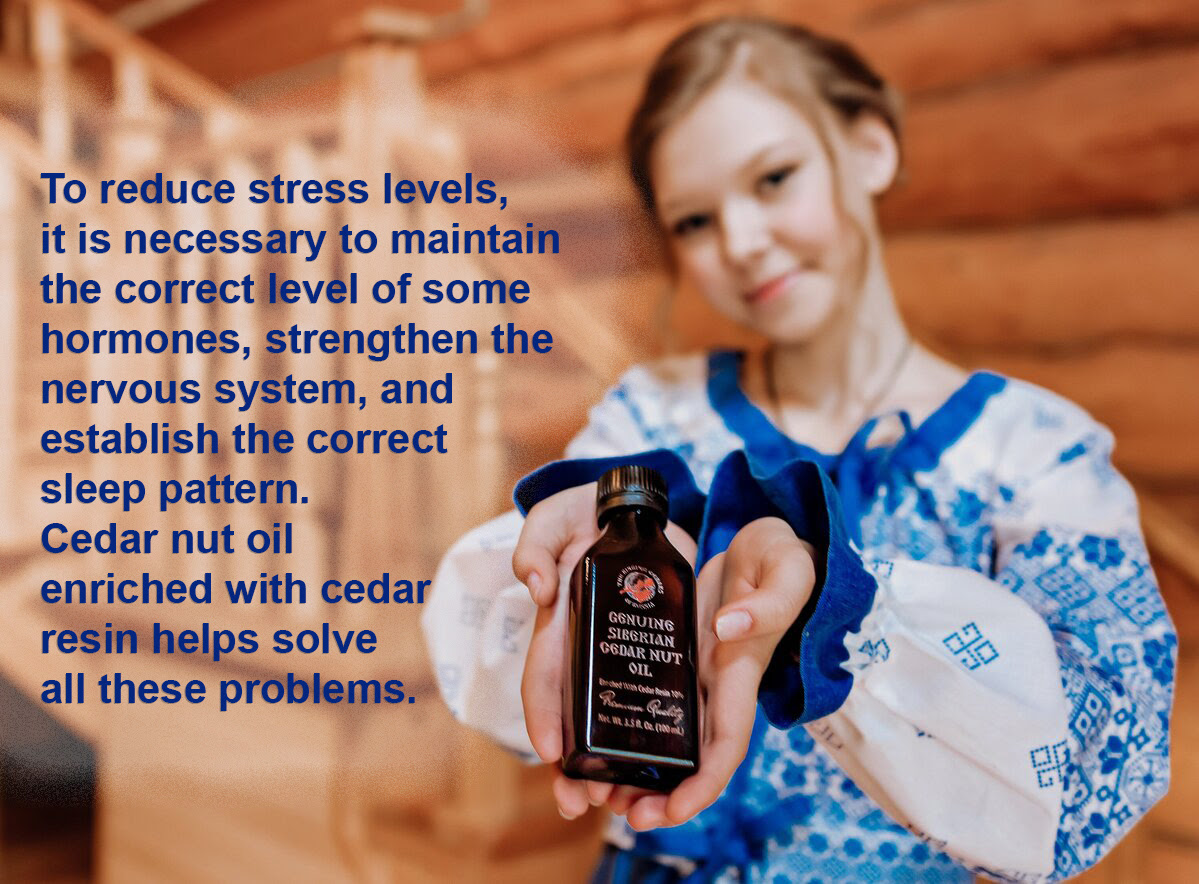 The modern world is full of stress. Chronic stress is not just constant discomfort, but it also brings many serious complications. It can accelerate the development of diseases such as hypertension, coronary heart disease, bronchial asthma, and peptic ulcer. In addition, stress leads to allergic diseases and serious mental problems, including panic attacks and depression. In order to reduce stress levels regardless of external conditions, it is necessary to maintain the correct level of some hormones, strengthen the nervous system, and establish the correct sleep pattern. Сedar nut oil enriched with cedar resin helps solve all these problems.
Cedar nut oil enriched with cedar resin affects the level of stress hormones
The most important stress hormones are adrenaline, norepinephrine and cortisol. All three hormones have a certain effect on us:
- when cortisol is released, the body is able to exist in a tense environment and cope with stressful situations
- norepinephrine affects emotions, memory, and perception. Excess norepinephrine can make us anxious and hyperactive
- adrenaline is released into the blood in a state of stress as a biological response to the situation. In its absence or in violation of its production in response to stress, a person may develop depression.
The adrenal glands play a critical role in regulating the levels of all three stress hormones. These are endocrine glands that synthesize cortisol, norepinephrine, adrenaline, aldosterone, catecholamines, and a number of other hormones. The adrenal glands need zinc, vitamin B6, and pantothenic acid to function properly.[1][2] In addition, vitamin C is directly related to the level of stress hormones in the adrenal glands. All these nutrients are found in cedar nut oil enriched with cedar resin. Its regular intake ensures the normal production of hormones that help to cope with stress.
Cedar nut oil enriched with cedar resin strengthens the nervous system
The nervous system regulates many processes in our body: its normal functioning is necessary even for digestion. If we talk about stress, then thanks to the normal functioning of the nervous system, you adequately respond to difficult situations, do not lose the ability to think clearly, and also overcome psycho-emotional stress without harm to health.
The most important mineral for the nervous system is magnesium. It serves as a natural anti-stress factor, inhibits the processes of excitation in the central nervous system, and reduces the body's sensitivity to external influences. The use of magnesium that is contained in cedar nut oil prevents depression and reduces anxiety. [3] Zinc, selenium, B vitamins, omega-3s, and the amino acids leucine, lysine, methionine, and phenylalanine, all of which are also found in cedar nut oil, have similar effects.
Cedar resin also has a beneficial effect on the nervous system. It contains:
- vitamin C. This vitamin prevents the development of serious psychological disorders against the background of constant stress. [4]
- vitamin D. This vitamin helps the body to adapt to new conditions easier and faster.
- monoterpenes. They have a mild sedative effect.
- succinic acid. It affects the cranial nerves, increases overall tone and physical performance. In addition, succinic acid contributes to the rapid recovery of the nervous system.
Cedar nut oil enriched with cedar resin normalizes sleep
Proper sleep routine strengthens the body's natural defenses and provides enough energy to cope with daily psychological and physical stress. However, there is also an inverse relationship: severe stress often causes insomnia, because of which you find yourself in a «vicious circle» and cannot gain strength to deal with stress.
Cedar nut oil enriched with cedar resin contains the essential amino acid tryptophan that is involved in the synthesis of melatonin, the so-called «sleep hormone». Another amino acid, methionine, also has the ability to normalize sleep patterns.
Cedar resin is rich in terpenes, one of the most important properties of which is the normalization of the emotional background and a mild calming effect, as well as improving memory and sleep functions. [5]
Cedar nut oil enriched with cedar resin affects your resistance to stress at the hormonal level, promotes a more adequate response to external stimuli, and improves the quality of sleep. Thanks to this, you can overcome any stressful situations without harm to health.