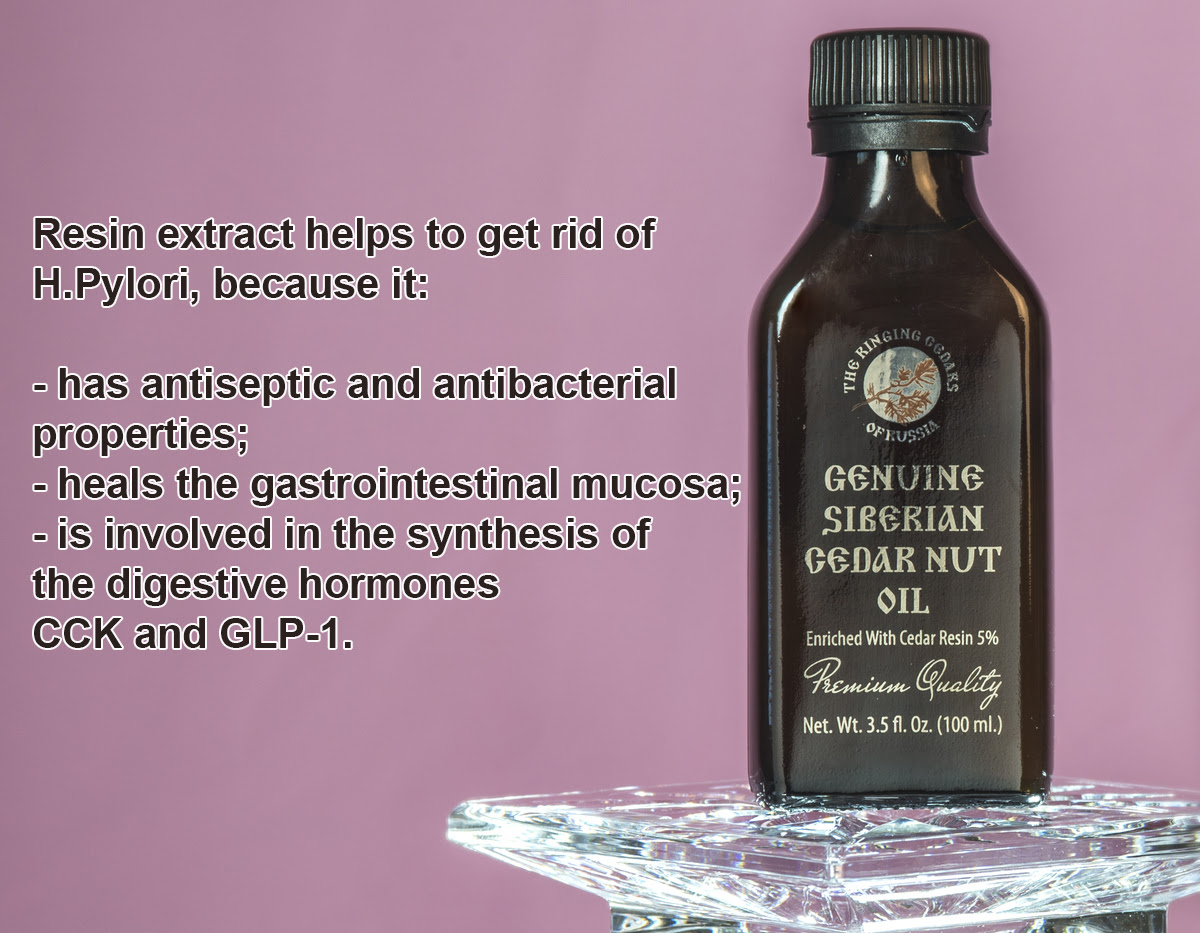 Helicobacter pylori is a bacterium that lives in the human stomach and duodenum. This bacterium infects 65-92% of the population. In most cases, a person may not know about the presence of H. pylori for a long time and not experience unpleasant symptoms. However, scientists have proven that this bacterium causes many serious diseases. It is one of the main causes of gastric ulcers and chronic gastritis [1], and also increases the risk of gastric cancer and MALT lymphoma.
Resin extract helps to get rid of H.Pylori, because it has antiseptic and antibacterial properties, heals the gastrointestinal mucosa, and is involved in the synthesis of the digestive hormones CCK and GLP-1. Scientific studies confirm the effectiveness of the use of cedar nut oil and cedar resin against H. Pylori and the diseases caused by it. [2][3]
Antibacterial and antiseptic effect
Cedar resin is a powerful antiseptic and antibacterial agent. In nature, resin helps plants protect themselves from parasites, and it also works in the same way in the human body. It stops the growth of pathogenic bacteria, while not having an inhibitory effect on beneficial microflora, as antibiotics do. Cedar nut oil also has an antibacterial effect. Experiments have shown that cedar nut oil reduces the population of many harmful bacteria and microbes [4], and there is also experimental evidence of a similar effect of cedar resin terpenes.[5]
Beneficial effect on the gastric mucosa
When H.Pylori enters the stomach, it penetrates into its mucous membrane and begins to synthesize substances (in particular, urease) that increase the concentration of ammonia. Ammonia neutralizes hydrochloric acid in the gastric juice and creates an alkaline environment that is comfortable for H.pylori, which contributes to the further reproduction of bacteria.
Resin extract has two beneficial effects on the mucous membrane:
- Promotes rapid healing of damage caused by H.Pylori due to the content of vitamin A and unsaturated fatty acids.
- Reduces the concentration of ammonia due to the fact that succinic acid from cedar resin is involved in the conversion of ammonia into harmless ammonium succinate.
Synthesis of digestive hormones
The use of resin extract stimulates the production of the digestive hormones CCK and GLP-1. This effect of cedar resin and cedar nut oil has been confirmed by research and experiments. [6] These hormones are Nature's way of protecting the body from high concentrations of ammonia, gastrin, and hydrochloric acid. They contribute to better absorption of beneficial nutrients from food and inhibit the synthesis of substances harmful to the mucosa.
Thus, cedar resin and cedar nut oil stop the reproduction of H. Pylori and neutralize the negative consequences of its impact on the gastrointestinal tract.