Interview of Ivan and Regina Lebedevs from Kin's Domain "Lebedushki" - Kin's Settlement "Kalinovets"
Q: Tell us, what were your first days at the Kin's Domain?
A: Well, I'll tell you how it was, and then how it MUST BE. We acquired a plot in 2010. But that year we did not do much work there, as we were preparing for the wedding, and simply had no time. We visited our land once in 3 days. In those days, the site was measured, its borders were marked, the perimeter was canted, a spring was found in the forest.
We moved from the city to the nearby village of Osinki on April 18, 2011.And we began to develop the site on May 7. We didn't have a project of the estate and decided to do it when we are at the Domain. There were fires in the previous year, our land was also burning as well, so there was little vegetation but only dry grass.
So we decided to clean up the land first. We began to rake dry grass with a rake, it was mainly alfalfa. Then we planned to use all this "grass" to mulch the garden. We started with a breakdown of the garden. Many mistakes were made that year. But still we got a crop of zucchini, squash, cucumbers, and cabbage. Potatoes, onions and carrots did not freak out because of our stupidity. We did not set a goal that year to harvest for the winter, but, nevertheless, we even managed to make a little conservation.
That year we decided not to build a house. We wanted to observe the site at first. We planted several bushes of currant and gooseberry and perennial flowers. We studied the vegetation that grew at our land. For water we went to a spring in the forest 400 meters from the Domain. We lived in a tent. But all the furniture and things were kept in the house in the nearby village.
We sometimes visited it. There we washed, ironed, charged phones, rested from the heat. Because you can't stay in a tent in the heat; and our land was an open area without vegetation. I do not mention our social events and making money for living. That was our life from May to September 2011 on the estate. Then we moved to a village house to spend winter in it.
Q: What would you not recommend doing at the very beginning of the move?
A: A complex and simple question at the same time. Responding to it, we can only rely on our own experience. It is different for everyone. In any case, you will have to go through your difficulties, through your mistakes. And even if several people spread the straw and show you the right path, you will still go your own way. Let's better tell us where we would start or what mistakes we made when we moved to the estate.
Q: What would you change if you had a chance to do it all over again? What conclusions did you draw for yourself?
A: 1. DO NOT HURRY TO THE LAND. Be prepared to move consciously. The preparation includes not only the accumulation of funds, but also the study of information in many areas of knowledge. You will need a step-by-step plan for moving to the land.
2. The first thing to do, even if you have not chosen a place for the Domain - create a project! It is the most important thing! We did not create our project, there was only a general outline. The knowledge needed to create a project came two years later. Imagine, you are already standing on your land, and then what? What will you do on it in the first place? And in the second? The first two years the owners have a big euphoria, they are in a stream of inspiration. And in this stream everything is done very easily and quickly. And this stream needs to be directed in the right direction. And if you do not have a project, there is no clear plan for your actions; the energy of inspiration will go to the wrong place. I emphasize that the project should be as detailed as possible. You don't just chose a place for a pond, but you also need to decide on its shape, depth, plants that will grow in it and fishes that will live there. When you think about the house, you need not only to choose a place for it, but to design it in detail including building materials, heating systems and etc. If you think about a grove, you need to decide what shrubs and trees will be a hedge, on the number of trees, grove shape, size, etc. That is what I am talking about.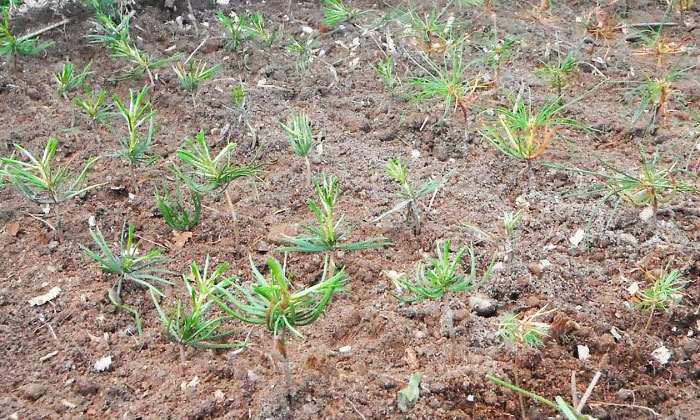 3. Arriving on the land, begin to plant a hedge. Many made such a mistake, and we are no exception. Unfortunately, we did not do this immediately. It is important to plant the fence all at once. To avoid gaps. Where to get seedlings? Look for nurseries that are near you, dig up small trees in the forest or grow them from seeds.
4. What else would we do differently? We would immediately lay the garden. We had disputes among ourselves that lasted more than one year: should we plant grafted apples and pears or not? We have planted apple trees from seeds, but it takes years for them to grow and begin bearing fruit. This year we came to a compromise. In the fall we will plant a garden of grafted seedlings, and gradually we will replace them with seedlings grown by us from seeds. But if we made this decision from the beginning we could eat our own apples now.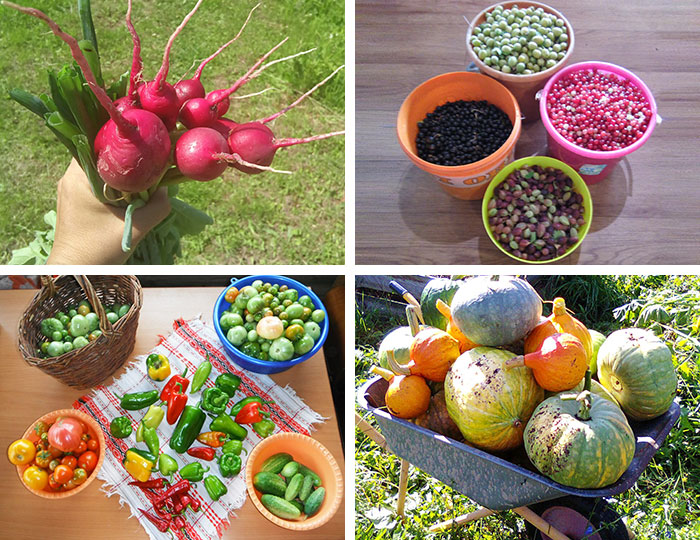 5. Do not build the house in the first year of site development. Fortunately, we had enough brain not to do that. From our own experience, we can say that inspiration intensifies when you plant trees and shrubs at first. Construction is such a time and energy consuming process that does not like fuss. Even if you immediately have a large sum of money for construction, and a team of specialists can build your house, even in this case, you will have to invest a lot of moral, mental and physical strength. Well, if you do not have large amount of money, then you will have to learn to build yourself. And this will result in an increase in the construction time; and physical and mental stress increases significantly. If you start with planting, and then move to the construction then the life fence, garden and trees will delight you, and give you energy and strength to go on. First build a small house with a minimal comfort (for a woman this is very important) in which you can summer and winter. To build a large house, you must first prepare all the necessary materials, and without a project it is not easy to do. In the future, a small house can be converted, for example, into a guest house, or a workshop, or something else.
6. Do not set a goal of providing yourself immediately in the first year with your own produce. This is an illusion of all the novice landowners. Five years we have been improving the land in the garden. And yet we do not provide ourselves with vegetables completely. The land will not immediately produce a result. In the first year plant 2-3 vegetable beds. Determine the place for the garden and bring all the mowed grass from the site there. If possible, buy straw rolls and lay them out in the garden too. You will need to do so for 3 years in a row. Then the soil will thank you very much.
7. We would establish a nursery in the first year of land development. Now our nursery is the third year. We created it primarily for ourselves. We learnt a lot by developing it and this is a good school for us. If you lay the nursery on your land, then it can later become the main business and bringing your family a decent income.
8. Solve the issue of water. In all settlements water situations are different. Someone makes wells, someone has streams or springs. This question needs to be studied very carefully. Without water everything grows much worse, and you will need water for yourselves.
9. Why we still do not recommend large-scale gardening in the first year? Because to grow produce is one thing, but it still needs to be preserved. You know how sad it is when vegetables that you have grown yourself and that you cherished, deteriorate due to improper storage ?! You will need a cellar.
10. And most importantly, guys! Do not rush to the land without money, as we did. We arrived with two thousand rubles in our pocket. We had food, a tent and gardening tools. It seemed to us that we were prepared. We quit our jobs and had no savings, there was no real estate that could be sold or rented out, nor did we have any passive income. Adventurers in one word! ))) That's how we started. This period of life was not the easiest for us. But all these difficulties hardened us and made us much stronger. Our path of building Kin's Domain could be more joyful and less difficult if we organized everything correctly.
by By Ivan and Regina Lebedevs
Kin's Domain "Lebedushki"