Prepared by Victor Rod
In Russia, in the mountains of the Caucasus, not far from the cities of Gelenzhik, Tuapse, Novorossiysk and Sochi, there are about 2000 megalithic monuments known that are called dolmens.[1]
All megalithic dolmens found in the Caucasus are dated differently by archaeologists, some believe that megalithic monuments were created 10,000 years or 25,000 years ago, others determine the age of these megalithic structures from 4,000 to 10,000 years.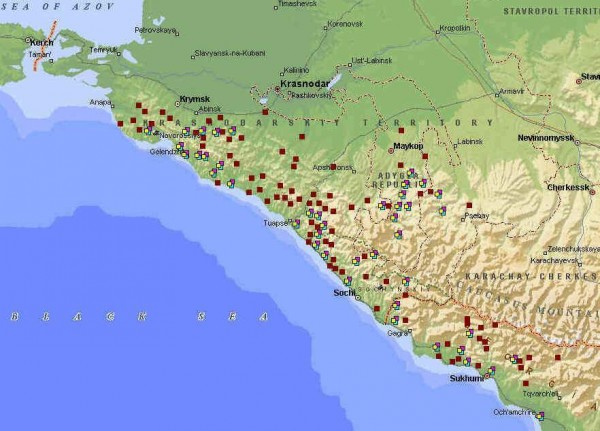 Map of Dolmens by Black Sea shore, Russia
The dolmens are a unique type of prehistoric architectural structures built of cyclopean stone blocks. Giant stones are processed and fitted to each other at an angle of 90 degrees, some stones are hewn, and the sides of the stone are processed so that when they are put together they form into a perfect circle.[2]
The dolmens come in square, trapezoidal, rectangular and round forms. In the center of the facade of the dolmens there is a round hole through which a person can crawl.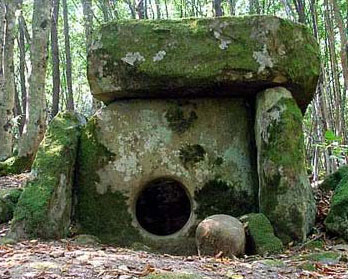 Next to each round entrance to the dolmen, a well-cut round stone was found, precisely fitted to the size of the entrance-hole, which served as a pretend stone blocking the entrance to the dolmen.
Russian and foreign archaeologists still have not come to a common opinion of how the dolmens were built.
According to the book 2 "Ringing Cedars of Russia" approximately 25 thousands years ago Vedrus sages went to these chambers to immerse themselves in eternal meditation. Their bodies vanished long ago, but their souls and thoughts stayed in these chambers to share their wisdom with visitors.
As Anastasia said: "...Such complete isolation, the impossibility of even entertaining a thought about going back, but not yet having crossed into the next world, the deactivation of the usual organs of feeling, sight and hearing, would open up the opportunity for full communication with the Mind of the Universe and the comprehension of many phenomena, as well as of many of the actions of the Earth-dwellers. Most important of all, they would be able to subsequently transmit what they had discovered to those still alive, as well as to succeeding generations...
Those still alive and even those who might be born thousands of years hence would be able to go to them and obtain answers to any questions that were of interest to Man. The required sitting beside the chamber and meditating. Sometimes the answer would come right away, sometimes after a delay, but it would definitely come, since these structures and those that retreated into them served as an information receiver. Through them it was easier to communicate with Great Intelligence of the Universe."[3]
Nowadays, thousands of pilgrims come to Dolmens every year and share their experiences with others. You can read what people felt, thought and experienced being near the Dolmens at the following articles:
1. My Experience with Dolmens.
2. Scent of the Dolmens - Impression from an Encounter.
4. An Impractical Guide for Hiking to the Dolmens.
5. Gelendzhik - the tourist city.
---
REFERENCES
1. Russian Academy of Science, V.A. Trifonof, PhD "Dolmens of the Western Caucasus, Russia". http://www.archeo.ru/ .
1. Wikipedia Dolmen [ article].