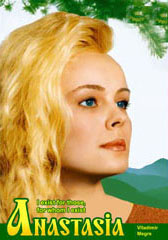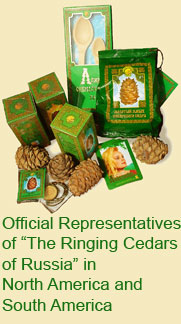 Popular searches:


Did you find a mistake in the text? Please, send it to us: highlight it and press Ctrl+Enter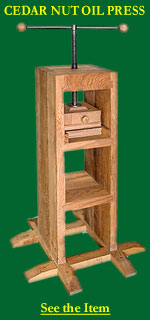 Siberian Pine, Pinus sibirica or ancient native name Siberian Cedar
"Anastasia, that cedar nut oil, are its healing properties stronger or
weaker than the pieces of the ringing cedar?"
"The same. Provided the nuts are gathered at the proper
time and with the proper attitude toward the cedar.
Provided the tree bestows them of itself. "
- Anastasia.
"THE RINGING CEDARS OF RUSSIA"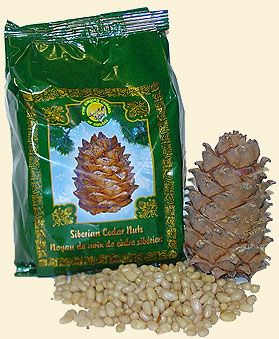 This page is dedicated to the Siberian cedar products under brand name "The Ringing Cedars of Russia". Here you can ask your questions, find your answers and read the reviews from people who already used the Siberian cedar products under "The Ringing Cedars of Russia" brand.

Vedic knowledge on Cedar Tree
Frequently asked questions
Articles
Recipes
Cedar nuts
Cedar nut oil
Cedar nut flour
Nutrition chart
Store
Customers' Feedback
Article: The use of cedar nut oil in the treatment of gastritis, erosive stomach and duodenal ulcers

The brand name "THE RINGING CEDARS OF RUSSIA" stands for business integrity, decency and the highest possible quality of product. All products marketed under this brand name convey the primordial power of Nature and the warmth of our hearts. We offer:
A variety of high-quality cedar products, including cedar nuts, cedar flour and cedar nut oil.
Huge plantations of cedar trees grow in the Siberian taiga, said to be the ecologically purest area of the world. The virgin forest of the taiga has never been treated with any chemicals or artificial fertilisation, nor abused by agricultural machines.
Cedar nuts (the seeds of the cedar tree) take two years to mature, during which time the tree accumulates a huge volume of positive cosmic energy. Crops of nuts are harvested manually by people lovingly devoted to this task, working in a pleasant environment without undue haste to create unique products full of positive energy reflecting the infinite powers of Nature. Specific preparations include:
We pick only cedar cones which fall naturally from the trees, thus ensuring that only ripe cones are selected. We always avoid hitting the trees to shake unripe cedar cones down (as happens with some other commercial operations) — a practice which causes the nuts to lose their healing power.
Cones are then manually shelled with the help of wooden shell-removers. Nut centres are separated from their shells using wooden rollers.
Cedar nut oil and cedar nut flour marketed under our brand name are obtained by the cold-pressure method, using manual wooden oil-presses.
Cedar nut oil is then stored in special containers and packed in a small village near Novosibirsk by name "Kandayrovo" using unique technology to avoid any contact with metal. The whole process is strictly supervised to ensure it complies with all sanitary requirements.
Final products are placed in special packaging to prevent daylight penetration, and stored at a temperature of 0°C to +5°C to better preserve the product's natural components. The resulting product is a bright gold-coloured liquid with the pleasant smell of cedar nuts. It is a 100% natural product with strong healing powers.
Special steps have been taken to protect "THE RINGING CEDARS OF RUSSIA" cedar nut oil against counterfeit: Read more about Anti-Counterfeit



SIBERIAN CEDAR NUTS
(In North America better known by the name of pine nuts)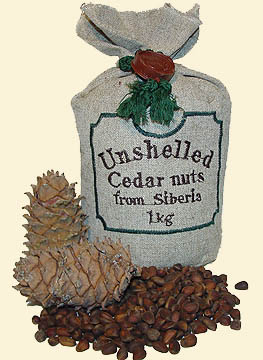 Cedar nuts are praised throughout the world as a nutritious healthy snack and essential ingredient in multiple oriental and Mediterranean dishes (check out our Recipes section for incredible culinary suggestions). In fact, cedar nuts are so nutritious they have been the staple in diet of many Native American tribes and indigenous people of Siberia (see the nutrition chart below). There are over 20 cedar tree species in the world producing cedar nuts, of which the cedar nuts of Siberian cedar (or Siberian cedar, Pinus sibirica) are recognized as the most nutritious. These are the cedar nuts that are marketed under "The Ringing Cedars of Russia" brand. We have them both shelled (ready to eat) and in the shell. While extracting these cedar nuts is a meditative time-consuming process, the rewards are great as well - freshly shelled cedar nuts have some volatile essential oils (giving them an additional crisp fragrance of cedar needles and a unique taste) which evaporate within one hour after the nuts are shelled.

Siberian cedar nuts bearing "The Ringing Cedars of Russia" brand are available from www.ringingcedarsofrussia.org on-line Store, both shelled and in the shell, and in a variety of packages. They have a shelf life of 6 to 12 months (refrigerated) and may be frozen to extend their shelf life indefinitely.



SIBERIAN CEDAR NUT OIL
(In North America better known by the name of pine nut oil)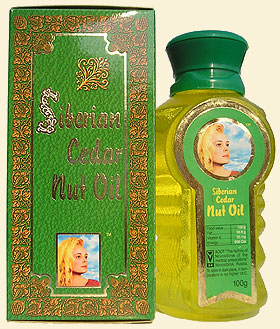 Siberian cedar nuts (pine nuts) contain about 60% oil. They are therefore pressed to obtain cedar nut oil, which is available on the market as a very expensive gourmet cooking oil. Cold pressing in all-wooden presses is preferred to retain the nutritional properties of nuts and derive the oil of highest quality.

The cedar nut oil bearing "The Ringing Cedars of Russia" brand comes exclusively from wild-harvested Siberian cedar nuts - one of the most nutritious cedar nuts in the world. In comparison, other cedar nut oils are usually pressed from the Italian pignolia cedar nuts, which are not nearly as potent and are often harvested from trees growing in plantations. Our Siberian cedar nut oil is extra virgin (100% cold pressed from freshly shelled raw Siberian cedar nuts), whereas most cedar nut oils on the market are either not cold pressed or even pressed from roasted (!) cedar nuts, which significantly decreases the oil value. Finally, "The Ringing Cedars of Russia" Siberian cedar nut oil is the only one which is available on the market anywhere in the world pressed with wooden presses in accordance with traditional techniques described in Vladimir Megre's life-changing book "The Ringing Cedars of Russia" (available from our on-line Store). In contrast, all other cedar nut oils are pressed using steel presses, which immediately degrades them (contact with steel oxidizes some of the cedar nut oil's most important ingredients such as vitamins, and is known to remove the 'life force' from the oil).

Cedar nut oil has also traditionally been used in ancient Russian and European natural medicine to cure a wide array of ailments - ingested (decreasing blood pressure, boosting immune system resistance, etc.) or applied externally (a range of dermatological disorders).It is also used in expensive cosmetics.

Cedar nut oil contains pinolenic acid, a polyunsaturated fatty acid, and is marketed in the U.S. as a means stimulate cell proliferation, prevent hypertension, decrease blood lipid and blood sugar, and inhibit allergic reactions.
Check out our Recipes section for incredible culinary suggestions featuring the virgin cold-pressed cedar nut oil.
The unique Siberian cedar nut oil bearing "The Ringing Cedars of Russia" brand is available from www.ringingcedarsofrussia.org on-line Store. It has a shelf life of 12 months (refrigerated).



CEDAR NUTS NUTRITION CHART
---
Nutrient Analysis Source: Custom
1 Yield: (28.000 gram(s))
No. Ingredients: 1
Category: Basic Food
Manufacturer: (None)
Nutrient Goal Template: DAILY VALUES/RDI - ADULT/CHILD
Percentage of Kcals
Protein 10.0%
Carbohydrate 6.2%
Fat, total 83.8%
Alcohol 0.0%
Table prepared by First DataBank Nutritionist Pro™
| Nutrient | Value | Unit | Goal | % |
| --- | --- | --- | --- | --- |
| Weight | 28.000 | g | | |
| Kilocalories | 186.760 | kcal | 2000.000 | 9 % |
| Protein | 1.904 | g | 50.000 | 4 % |
| Carbohydrate | 1.176 | g | 300.000 | 0 % |
| Fat, Total | 7.056 | g | 65.000 | 11 % |
| Alcohol | 0.000 | g | | |
| Cholesterol | 0.000 | mg | 300.000 | 0 % |
| Saturated Fat | 2.626 | g | 20.000 | 13 % |
| Monounsaturated Fat | 6.424 | g | | |
| Polyunsaturated Fat | 7.187 | g | | |
| MFA 18:1, Oleic | 6.028 | g | | |
| PFA 18:2, Linoleic | 6.967 | g | | |
| PFA 18:3, Linolenic | 0.220 | g | | |
| PFA 20:5, EPA | | | | |
| PFA 22:6, DHA | | | | |
| Trans Fatty Acid | | | | |
| Sodium | 20.160 | mg | 2400.000 | 1 % |
| Potassium | 175.840 | mg | 3500.000 | 5 % |
| Vitamin A (RE) | 0.840 | RE | | |
| Vitamin A (IU) | 8.120 | IU | 5000.000 | 0 % |
| Vitamin A (RAE) | 0.280 | µg | | |
| Beta-Carotene | | | | |
| Alpha-Carotene | | | | |
| Lutein (+ Zeaxanthin) | | | | |
| Beta-Cryptoxanthin | | | | |
| Lycopene | | | | |
| Vitamin C | 0.560 | mg | 60.000 | 1 % |
| Calcium | 2.240 | mg | 1000.000 | 0 % |
| Iron | 0.857 | mg | 18.000 | 5 % |
| Vitamin D (ug) | 0.000 | µg | 10.000 | 0 % |
| Vitamin D (IU) | 0.000 | IU | 400.000 | 0 % |
| Vitamin E (mg) | | | 20.000 | |
| Vitamin E (IU) | | | 30.000 | |
| Alpha-Tocopherol | | | | |
| Thiamin | 0.348 | mg | 1.500 | 23 % |
| Riboflavin | 0.062 | mg | 1.700 | 4 % |
| Niacin | 1.224 | mg | 20.000 | 6 % |
| Pyridoxine (Vitamin B6) | 0.031 | mg | 2.000 | 2 % |
| Folate (Total) | 16.240 | µg | 400.000 | 4 % |
| Folate (DFE) | 16.240 | µg | | |
| Cobalamin (Vitamin B12) | 0.000 | µg | 6.000 | 0 % |
| Biotin | 300.000 | | | |
| Pantothenic Acid | 0.059 | mg | 10.000 | 1 % |
| Vitamin K | | | 80.000 | |
| Phosphorus | 9.800 | mg | 1000.000 | 1 % |
| Iodine | | | 150.000 | |
| Magnesium | 65.520 | mg | 400.000 | 16 % |
| Zinc | 1.198 | mg | 15.000 | 8 % |
| Copper | 0.290 | mg | 2.000 | 14 % |
| Manganese | 1.213 | mg | 2.000 | 61 % |
| Selenium | | | 70.000 | |
| Fluoride Chromium | | | 0.120 | |
| Molybdenum | | | 75.000 | |
| Dietary Fiber, Total | 2.996 | g | 25.000 | 12 % |
| Soluble Fiber | | | | |
| Insoluble Fiber | | | | |
| Crude Fiber | | | | |
| Sugar, Total | | | | |
| Glucose | | | | |
| Galactose | 0.000 | g | | |
| Fructose | | | | |
| Sucrose | | | | |
| Lactose | 0.000 | g | | |
| Maltose | | | | |
| Sugar Alcohol | | | | |
| Other Carbohydrate | | | | |
| Tryptophan | 40.880 | mg | | |
| Threonine | 102.760 | mg | | |
| Isoleucine | 126.000 | mg | | |
| Leucine | 233.520 | mg | | |
| Lysine | 121.520 | mg | | |
| Methionine | 57.960 | mg | | |
| Cystine | 58.800 | mg | | |
| Phenylalanine | 124.040 | mg | | |
| Tyrosine | 118.720 | mg | | |
| Valine | 167.440 | mg | | |
| Arginine | 630.280 | mg | | |
| Histidine | 77.560 | mg | | |
| Alanine | 169.400 | mg | | |
| Aspartic Acid | 295.120 | mg | | |
| Glutamic Acid | 551.320 | mg | | |
| Glycine | 164.920 | mg | | |
| Proline | 174.160 | mg | | |
| Serine | 137.480 | mg | | |
| Moisture | 1.652 | g | | |
| Ash | 0.633 | g | | |
| Caffeine | 0.000 | mg | | |
Friday, September 01, 2006 First DataBank Nutritionist Pro™
g = gram; mg = milligram; mcg = microgram; IU = International Units
---


ORDERING

What shipping rates apply to international orders?
Please refer to the Shipping information in the Store section of our web-site.



Customers' feedback
The reviews on this page are written by individual readers just like yourself. Please share your impressions with others: send us your review and we will place it on this page. Thank you for sharing your impressions!
Send us your review
These cedar nuts have the creamiest taste and texture of any pignolia on the market. They're a dream come true in any recipe that uses cedar nuts. They're simply the BEST ever!
Allan, USA
---
Thank you so much for the wonderful product.
Regards, Shirley Cassin, USA
---
Would like to become a distributor for these wonderful books and products.
Tor Fjelldal, USA
---
Dear RingingCedarsofRussia.org, We intend to prepare a webpage to spread medical and scientific informations about cedar nuts and oil as well as essential oil. Via this webpage we also would like to sell your products, the quality of which we appreciate.
Kind regards, Max Moser, PhD. Mario Mayrhoffer, MD. Austria
---
Greetings Everyone,

I've received my order of the three kinds of essential oils from the cedar; the wood, the needles and the cone. All the oils are truly beautiful! I make my own insect repeller as in Florida they are vicious, and cedar is known to be a great repeller so I added the cone oil and it works better than what I've already had blended. I've been using the wood oil for strength with intention and I must admit that it is calming and giving me fortitude when I use it......it is a truly blessed essence. I've also blended the three oils together to make a perfume and I love it very much. The fragrance bypasses the mind and goes directly to the emotions, which is the whole point of therapeutic use of essential oils. And this cedar speaks to my emotions in a soothing way and effects a calm that brings peace. I just wanted to share my experience so far with the oils. They are beautiful as a perfume, but work very well therapeutically.

I want to share a little here of what Gabriel Mojay says about cedarwood oil in his book "Aromatherapy for Healing the Spirit" : "....Cedarwood oil can therefore give us immovable strength in times of crisis. Steadying the conscious mind, it helps us to resist the sudden events and powerful emotions that threaten to undermine our confidence and morale. It can 'buck-up' the ego when we feel alienated or destabilized-when we find ourselves, for example, suffering from 'culture shock' in a foreign country or in a strange situation (me: as in life on planet earth...lol). On a more subtle level, cedarwood oil can restore a sense of spiritual certainty similar in nature to caraway. While caraway oil reinforces the unwavering determination of the will, cedarwood bolsters the transforming power of the will, and was used instead to consecrate the magical wand. The oil's deeply virile woody balsamic aroma is one that helps us to take a negative or threatening situation, and transform it into an experience from which we can derive strength and wisdom."

This is what I also find to be the effects of this cedarwood oil. The needle is slightly different...Gabriel says about the needle:

"One a more subtle level, it was described by Dr. Edward Bach, as being indicated 'for those who blame themselves', who feel responsible not just for their own actions for but the mistakes and sufferings of others. A Herb of Protection, cedar is indicated for the type of Metal Element imbalance where there is a weakness of 'boundary' and of self-identity-where one cannot distinguish others' responsibilities from ones' own. Unable to transmute the forces of their environment, such an individual will tend to turn inward, feeling helpless and unworthy. Restoring emotional positivity and 'boundary', as well as our ability to 'process' experience, cedar works to dissipate both a negative self image and feelings of remorse, replacing undue guilt with forgiveness and self acceptance."

I will be ordering the larger size soon as I know the cedar ages well.

I hope you enjoy these oils and use the gifts they contain for humanity.
Serena, Walk in Beauty, Lady of the Woods.
---

Thank you for your fantastic products :-) I wish you the best.

Ronni, Denmark.
---
I love this product. I am anxious to share with my eldery mother and father.
Jennifer Page, USA
---

Very pleased with the energy I am getting from the oil and bee pollen.

Alice Smith , USA
---
My husband has ordered some products from you, now we need more cedar nuts as they are delicious.The books so far are very thought provoking and do indeed make you feel good as you read them.
Lyn, United Kingdom
---
Cedar nut oil works wonders!


I would like to tell you about cedar nut oil. My husband and I have been taking one tablespoon in the morning on an empty stomach over six months, alternating between ten days with oil followed by five days without. We've had phenomenal results.

Six years ago my husband underwent an operation on his liver. He was obliged to follow a strict diet. Any departure from it and he would have an attack. He always kept pills handy, but they only relieved the pain. But as soon as he began taking cedar nut oil, he immediately felt a noticeable relief of the symptoms. Even though he's given up his dieting, he has absolutely no liver problems. We don't even have any liver medicine in the house. It has been replaced by cedar nut oil.

Another interesting thing: after taking a spoonful of oil in the morning you get a charge of energy that lasts the whole day. Even if you run around all day like a squirrel in a wheel-cage, there's no fatigue come evening. My husband is 63 years old, but in his ability to work he can knock the socks off any younger man.

I've been helped by cedar nut oil too. After giving birth I got hemorrhoids and suffered with them for twenty years. No matter what remedies I tried it was no use. When I started taking cedar not oil, the thought came to me, why not make cedar enemas? I began introducing 2 ml of cedar nut oil into my anus with a single-use syringe. Since that time I feel as though I have reborn. There's not a trace of the hemhorroids left.

Another thing: I too had liver problems, just like my husband. Since I commenced taking cedar nut oil, my liver has not caused me any distress. And my skin has become really smooth and silky. Cedar nut oil does more for my skin than the most expensive cremes.

I'm personally convinced that cedar nut oil does work wonders. I recommend you give it a try.

Irina Nikolaevna Uziumova, Russia
---


Dear Ringing Cedars of Russia., since you have send the ordered products to me, I want to let you know how happy I am with the Cedar Oil, the Cedar Nuts and now the pillow. When I unpacked it, I was so touched ( I had tears in my eyes) because it's so beautifully made. And since I can't thank the Cedar Trees, Anastasiya, Vladimir or all the other people involved, I thank you and let you know how grateful I am. Best wishes and Godspeed, Petra.


Petra, Yelm, Washington, USA
---

(These tips come directly from users and are passed on to you. The company assumes no liability for any content of this tips.)




NATURAL MEDICINE


The use of cedar nut oil in the treatment of gastritis,
erosive stomach and duodenal ulcers
(methodological recommendations).
How to use cedar nut oil to heal yourself?



These recommendations have been formulated by:
E.I. Filchenko, M.D.
S.V. Nizkodubova, D.M.S.
V.I. Karpitsky, M.D. and A.G. Petrenko, M.D.1

Published reports attest to the high therapeutic effectiveness of various types of oils in various inflammatory processes. Cedar nut oil is distinguished from other well-known curative oils by its enriched content of various kinds of healing elements. It is a natural product used from ancient times in folk medicine. Cedar nut oil contains a large quantity of polyunsaturated fatty acids, including a significant quantity of fat-dissolving vitamins E and F, which are known for their high level of physiological and anti-acidic properties. The oil contains phosphatidic phosphorous, very important to bodily health, besides being a rich source of vitally important micro-elements: phoshporous, calcium, magnesium, manganese, copper, zinc, cobalt and iodine. Cedar nut oil contains up to 5% nitrogenous substances, of which 90% are amino acids, 70% of them indispenable acids — all of which testifies to its high physiological value.

Clinical tests of cedar nut oil have been conducted on patients at the Tomsk Scientific Research Institute of Balneotherapy and Physiotherapy. The aims were: to demonstrate the healing effectiveness of a given drug in both internal and external applications through sonic phonophoresis, to determine the dynamics of subjective and objective indications, to study the influence of cedar nut oil on the nutritional, secretory and excretive functions of the stomach and liver, to study its anti-oxidant properties, to work out the methodology of application to treatment, to determine its level of tolerance by patients under various prescribed methodologies.

The following methodologies were used for this purpose:
1. General clinical blood research (aspartate aminotransferase, alanine-aminotransferase, alkaline phosphatase, antioxidant activity, methane-dicarbonic dialdehyde).
2. General blood and urinal analysis,
3. Follicle-stimulating hormone with targeted biopsy.
4. Duodenal intubation with research into the chemical properties of bile.
5. Determination of the secretory function of the stomach.
6. Ultrasonic examination of the bladder, kidneys and pancreas.

The study comprised 30 patients under observation. Of these 25 had chronic erosive ulcers of the gastric mucosa, duodenal ulcers with accompanying cholane giocholecystitis of opisthorchosis etiology; the remaining five had chronic cholecystitis with chronic gastritis with a reduced secretory stomach function.

Two of the thirty subjects had reactive pancreatitis, while four had chronic hepatitis outside active procedures. With all 30 subject s motor dyskinesia of the bowels was observed.

Subsequently the subjects were prescribed a programme of treatment: one teaspoon of cedar nut oil three times a day over a two-month period. As a result of this treatment stomach pains were completely eliminated in all patients. Symptoms of dyspeptic disorder (nausea, heartburn, regurgitation and vomiting) were not to be found in a single patient. In 28 of the subjects a normalisation of bowel functions took place. According to follicle-stimulating hormone tests conducted 20 days after the treatment, ten of the subjects had experienced full recovery from ulcers and gastritis along with a reduction in inflammation of gastric mucosa and duodenal ulcers, as well as a reduction in ulcer size for the remaining 15 patients with erosive mucous stomach ulcers. There was a 50% reduction in the number of cases of fixed duodenal reflexes, according to endoscopic and laboratory tests. In evaluating the laboratory tests there was an indication of some reduction of acidity in the stomach juices in subjects with previously high acidic levels. The quantity of bilious discharge from the gall bladder doubled.

Thus, on the basis of the results obtained, one may conclude that cedar nut oil has a healing effect, meets a favourable reaction with patients, and can be applied to the treatment of digestive disorders. It is especially effective in curing erosive stomach and duodenal ulcers. During the remission stage one can apply phonophoresis of cedar nut oil to the projection area of the pathological process for a full and lasting hearling effect. When diluted with milk, the cedar nut oil has an anti-inflammation effect in treating cholecystitis and hepatocholecystitis.

TREATMENT METHODOLOGY:

1. Cedar nut oil is prescribed for 30 minutes or 1 hour before intake of food over a period of 21–24 days, with unhurried swallows of a teaspoon at a time three times a day. This is recommended for ulcerations located in the stomach or duodenum.

2. Cedar nut oil is prescribed for 1 hour before intake of food, diluted with milk (1 : 1) according to the method described above. This is recommended when ulceration is combined with chronic cholecystitis.

3. Cedar nut oil is prescribed internally according to variant Nº 2 with the following prescription of cedar nut oil phonophoresis. An ultrasound of the epigastrium is prescribed in a dosage of 0.2–0.6 Bt/cm2 in either pulse or continuous action over a period of 2–4 minutes, as well as of the paravertebral zone (intensity of 0.2 Bt/cm2 over a period of 2 minutes). Before the ultrasound the patient drinks 1 glass of boiled water. This is recommended when the ulceration is combined with chronic pancreatitis

4. In the case of post-excision disorders on account of ulceration, the treatment method may also be applied to patients operated on for cancer of the stomach.

INDICATIONS:

1. Patients with erosive ulcers of the stomach and duodenum.
2. Patients with cholecystitis and hepatocholecystitis.
3. Patients with endogastritis or bulbitis.
4. Patients with chronic pancreatitis.
5. Patients with post-excision discorders on account of ulceration.
There are no known counter-indications to application.


---

1 In this case, M.D. indicates the Russian degree 'Candidate of Medical Sciences', while D.M.S. signifies the Russian degree 'Doctor of Medical Sciences'.



---

Presented at the Tomsk Scientific Research Institute of balneology and physiotherapy of Ministry of Health of the Russian Federation, Tomsk, Russian Federation, November 15, 1995. http://niikf.tomsk.ru.



---

These articles come directly from researchers and are passed on to everybody. The company assumes no liability for any content in these articles.




ORDERING

What shipping rates apply to international orders?
Please refer to the Shipping information in the Store section of our web-site.