A new study, published in the scientific journal "Cell", shows that SARS-CoV-2 ( that is COVID-19) binds to human cells similarly to the original coronavirus - SARS (SARS-CoV) that caused a worldwide outbreak in 2003. In both cases viral proteins - the so-called protein "spikes" - are responsible for the connection of the virus with human cells.
"They are called spikes because they look like a spike on the surface of a viral particle. In order for a virus to infect a cell, it must attach to a protein on the surface of that cell that we call a receptor. For SARS-CoV-2 (COVID-19), it is a protein called ACE2. Spike binds ACE2 and allows COVID-19 to penetrate and infect cells, "says Angela Rasmussen, MD, professor of the Center for Infections and Immunity at the Mailman School of Public Health at Columbia University.
Along with this process, the spike protein must be primed with an enzyme called protease so that the virus can completely penetrate the cell. Research has shown that, like SARS-CoV, SARS-CoV-2 (COVID-19) uses the TMPRSS2 protease to complete the cell's infection process.
Scientists focused on finding any compound that could prevent the TMPRSS2 protease from working and stop the entry of coronavirus into the cell.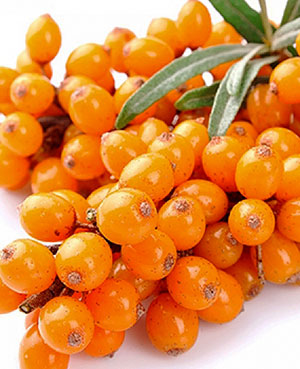 Sea Buckthorn Berries
In previous SARS-CoV studies, cysteines - proteins with anti-inflammatory and osteogenic properties - have already been investigated.
Research results showed that cysteines inhibit protease production, including these of the coronovirus group. To date, the possibility of cysteine suppression of the protease in COVID-19 is being investigated.[1]
For example, scientists from the Department of Virology III, National Institute of Infectious Diseases, Murayama Branch, Gakuen Musashi-Murayama, Tokyo, Japan, found that simultaneous treatment of human bronchial epithelial cells with serine and cysteine protease inhibitors prevents severe acute respiratory syndrome coronavirus entry. [2]
The development of a new cure for COVID-19 may take years or even decades, as long-term studies of the impact of new drugs on humans are required.
However, there exists phytocystatins. These are plant cystatins, usually present in large quantities in plant tissues and controlling the accumulation and degradation of storage proteins. One of these plants is sea buckthorn. Scientists from the Molecular Physiology and Proteomics Laboratory, Department of Botany, University of Delhi, New Delhi, India, studying a set of sea buckthorn proteins, found, among other things, phytocystatins, which suggests that sea buckthorn may possibly partially suppress the development of COVID-19 disease.[3]
Sea buckthorn is already being studied for the possibility of suppressing COVID-19, since it contains lactobacilli that suppress purines necessary for the development of coronavirus, as well as succinic and malic acid, which are antiviral agents.
Thus, in the absence of any medicine against coronavirus, sea buckthorn can serve as an excellent supplementary remedy for the prevention and control of COVID-19.
I.D. Karomatov
---
REFERENCES
1. Cynthia Liu, Qiongqiong Zhou, Yingzhu Li, Linda V. Garner, Steve P. Watkins, Linda J. Carter, Jeffrey Smoot, Anne C. Gregg, Angela D. Daniels, Susan Jervey, Dana Albaiu, Research and Development on Therapeutic Agents and Vaccines for COVID-19 and Related Human Coronavirus Diseases [ article].
2. Miyuki Kawase, Kazuya Shirato, Lia van der Hoek, Fumihiro Taguchi, Shutoku Matsuyama Simultaneous Treatment of Human Bronchial Epithelial Cells with Serine and Cysteine Protease Inhibitors Prevents Severe Acute Respiratory Syndrome Coronavirus Entry [ article].
3. Sougrakpam Y , Deswal R Hippophae rhamnoides N-glycoproteome analysis: a small step towards sea buckthorn proteome mining. [ article].
http://www.RingingCedarsofRussia.org/
Used by permission
Copyright CedarNuts.org
---
Customer Review
FIGHTING COVID-19 WITH CEDAR NUT OIL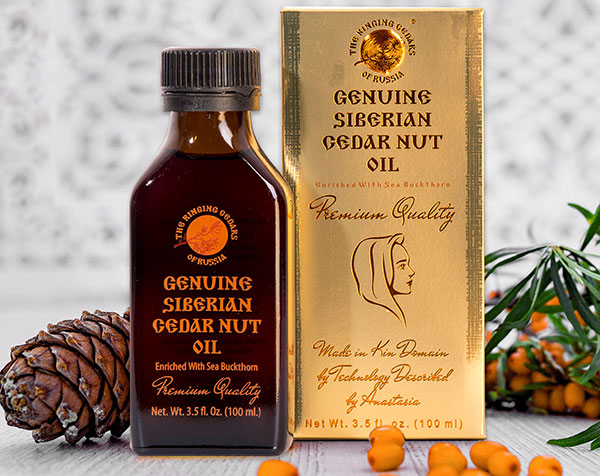 My husband Maxim and I traveled to Italy in February 2020 and returned to home at the beginning of March 2020. At that time, it was not mandatory to take coronavirus tests at the airport, so we did not, but we signed an obligation to be quarantined for 14 days. In 5-6 days after returning, my husband felt unwell, the temperature was 38 degrees of Celsius (100.4 degrees of Fahrenheit).

We called public COVID-19 hotline and within a few hours a special ambulance team arrived and made tests for the coronavirus for both of us. After 2 days, we were informed that the tests were positive and we were hospitalized in one of the Moscow hospitals.

Before I tell you what happened to us in the hospital, I would like to note that I am a follower of a healthy lifestyle and have been using cedar nut oil from the "Ringing Cedars of Russia" company for a year. My husband Maxim does not share my hobbies and has never used cedar nut oil regularly.

Since both tests were positive, we both were hospitalized in a separate double room. It is important to note that at the time of admission to the hospital I felt as usual, I did not have any symptoms. But my husband had a temperature of 39-40 degrees by Celsius (102-104 degrees by Fahrenheit) during the day. He was prescribed antiviral therapy, drug Mefloquine, and antipyretics. On the background of antiviral therapy for 3 days, a complication developed on the kidneys; and doctors prescribed a course of strong antibiotics.

Fortunately, the lung complication did not develop. On the background of antiviral therapy and taking antibiotics, my husband showed very serious side effects: indigestion and severe constipation. His skin was itching heavily and peeling throughout the body. He felt pain everywhere. In this regard, doctors prescribed painkillers to my husband that turned out to be ineffective, and morphine was prescribed finally.

Since I have experience in caring for patients and I have been diagnosed with coronavirus, I persuaded nurses to let me take care of my husband in order to reduce the risk of infection. All this time I was with him. My husband is a persistent man, but after a few days of torment, he began to fall into unconsciousness, and it was already said that he would be transferred to intensive care. I had a strong feeling that he would not survive this. On my own initiative, I started giving him cedar nut oil in large volumes - 3-4 tablespoons at a time and rubbed his entire body with cedar nut oil.

A day after my husband started taking cedar nut oil, he felt better. He asked for food and I gave him chicken stock. The pains began to recede and his digestion began to normalize. It is important to note that all this time I took cedar nut oil in a double dose (2 tablespoons 2-3 times a day) and my treatment took place without complications and was asymptomatic. After 10 days, the first control test showed a negative result, over the next 3 days I took another 2 tests, which also showed a negative result, and I was discharged home. My husband still remains in the hospital and undergoes treatment. He is already much better, but he is still fighting for the health of his kidneys.

Having experienced all the benefits and effectiveness of cedar nut oil, Maxim on his own and without reminders takes it every day. I want to thank the company "Ringing Cedars of Russia" for its amazing product and I want to say many thanks to the books of Anastasia, who introduced me to cedar nut oil.
Oksana Danilova, Moscow