Holiday Season is the time that brings families closer together to celebrate their hopes and dreams and their love for each other. It is the time when we recognize the importance of finding our loved ones that ideal gift, which would perfectly express our happiness, love towards them, and how grateful we are of having them in our lives.
Christmas is less than a month away, and the pressure of finding that perfect gift is building up. Our busy schedules often put tremendous pressure on us this Holiday Season. Masses of people in the Malls and Shopping Centers can make the experience extremely stressful and hectic.
With Ringing Cedars Of Russia's Gift Ideas, this Holiday Shopping is made easy! We would like to present to you a variety of Gift Paired Ideas, which will ensure to express your love in a perfect way this Christmas. What can be a better gift than the gift of Health, coming from Mother Nature itself!
Idea #1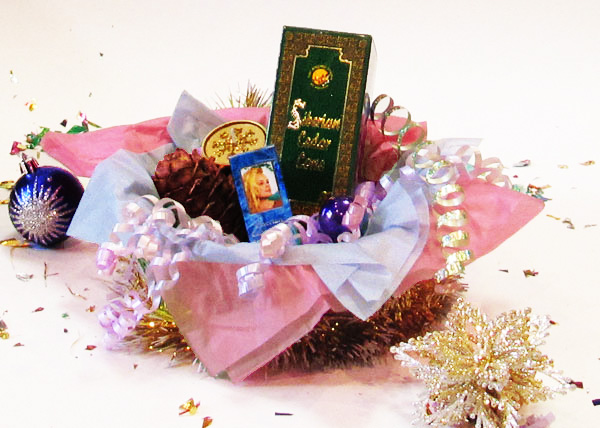 Any of our cedar essential oils would nicely match with a Cedar Cone.
Essential Oils of Wood, Cone and Needle (50g) bottles are designed with Christmas in Mind! The bottle is shaped as a Cedar Cone, which makes it perfect for this Holiday Season. Using our Essential Oils as air freshener will let your loved ones enjoy pleasant Christmas aroma in the air.
The Cedar Cone adds a wonderful Christmas touch to the Essential Oils. It would make a great decoration for the Christmas Tree. Make this Christmas a memorable one by planting the seeds of Cedar Cone, and giving back to mother Earth.
This gift combination will create wonderful Christmas Spirit right in your home!
You can also choose 25ml and 10 ml bottles of essential oil.
Idea #2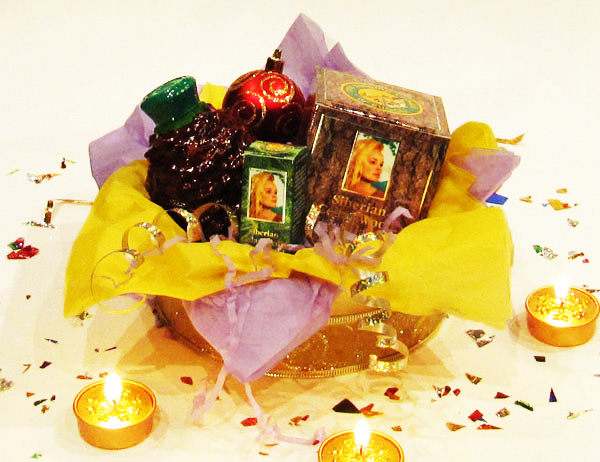 Our essential oils come from the world's finest plants, and are prepared to ensure that a plants' integrity is preserved.
Combining the beauty of Cone shaped bottle of the Essential Oil Cedar Wood (50g) together with Essential Oil Cedar Needle, would ensure to keep loved ones satisfied.
Using the oils for massages or adding a few drops of either Cedar Wood or Cedar Needle to baths would create pleasant aroma, relax nervous system, eliminate emotional stress and even stabilize blood pressure.
Also any combinations essential oils of Cedar Wood, Needle, Resin or Fir would be no less hormonious as described one.
Idea #3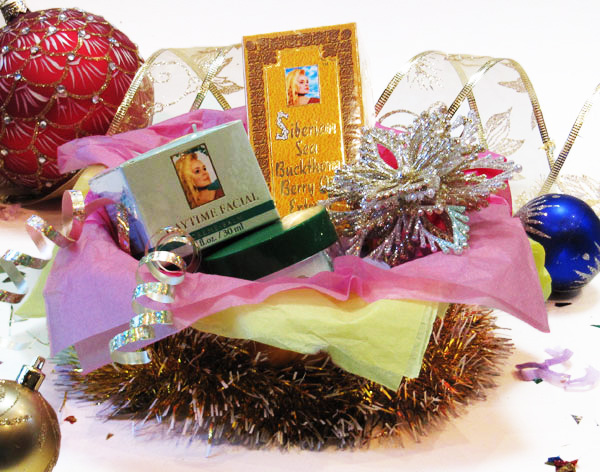 Treat yourself and your loved ones this Christmas with our Skin Care Package.
This Christmas give the gift of beautiful skin from inside and outside. Cedar Nut Oil enriched with Sea Buckthorn, when applied externally, is excellent for skin.
Cosmetic companies are adding sea-buckthorn oil to anti-aging preparations for skin rejuvenation and accelerated healing properties. It is also being used topically as a natural treatment for eczema, acne rosacea, acne and acne scars, and as a lotion for minimizing stretch marks.
Cedar Nut Oil enriched with Sea Buckthorn, when taken internally, enriches body with unique botanical and nutritional properties from within.
Ensure to protect Facial Skin & Feet, by using our Daytime Creme and Feet Creme, which will greatly smoothen, soften and nourish.
Idea #4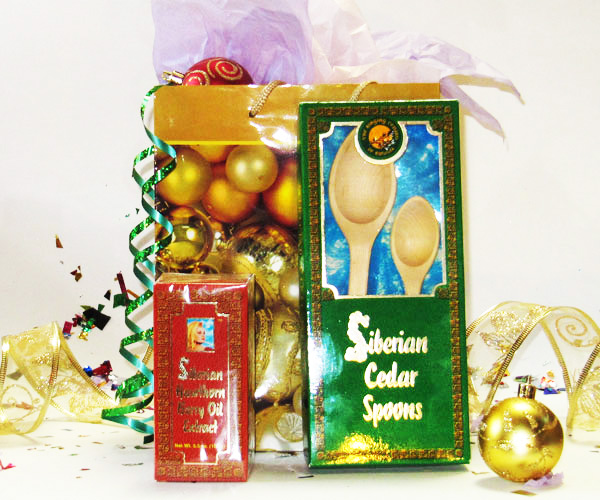 It is essential that healthy products are also taken with proper tools. This Holiday Season give a total gift of health by selecting any cedar nut oil along with cedar spoons.
Cedar Spoons are made from 100% natural Cedar Tree. They do not oxidize the elements of the food you eat (unlike metal), leaving food in its natural condition. Eating with these spoons improves the taste of the food and eliminates dangerous bacteria in ones mouth and stomach.
Our Cedar Nut Oils are appetizing delicatessens that can improve any holiday meal. The bright packaging of Cedar Nut Oils and their healing power will add elegance and meaning to your gift.
Christmas is the most celebrated Holiday of Joy, Love, Togetherness and Happiness. The Magic is felt everywhere! Through Gift Sharing we pass the warmth of our hearts to the ones we care about. Let the Holy Spirit fill your home with blessings, laughter, happiness, and love.
Wishing you all a wonderful time with family and friends,
Have a very Merry Christmas & Happy New Year!
Prepared by: Victor Rod