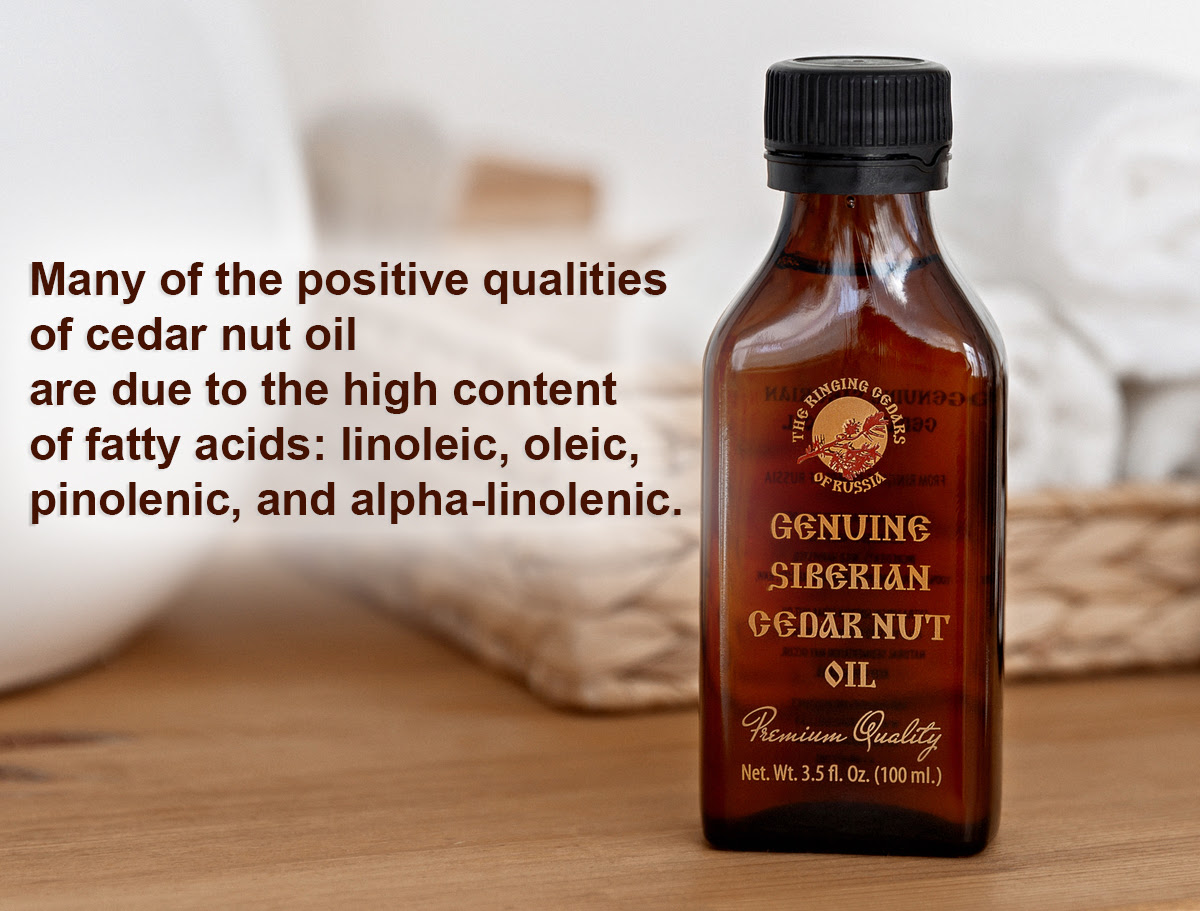 Cedar nut oil is rich in a variety of vitamins, minerals, and amino acids. But these are not the only beneficial nutrients in the oil.Many of the positive qualities of cedar nut oil are due to the high content of fatty acids, among which are both widespread (linoleic, oleic) and rather rare (pinolenic, alpha-linolenic). Today we want to talk about the scientifically proven properties of these fatty acids.
Linoleic acid
Linoleic acid belongs to the Omega-6 class. This class of acids is quite widespread and therefore has been studied in detail. Numerous experiments have proven that linoleic acid:
- regulates glucose homeostasis and insulin sensitivity, thus being a preventive agent for diabetes mellitus [1]
- strengthens the immune system and helps the body fight viruses and bacteria
- reduces the risk of cardiovascular disease.[2]
Alpha-linolenic Acid
Alpha-linolenic acid belongs to the Omega-3 class. Like other fatty acids, it has a beneficial effect on the state of the heart and blood vessels. Scientists have found that taking alpha-linolenic acid reduces the risk of death from cardiovascular diseases.[3] In addition, alpha-linolenic acid:
- has an anti-inflammatory effect. Due to this it can prevent pseudo-allergic reactions.[4]
- promotes weight loss by reducing visceral fat accumulation.[5]
Oleic acid
It is a monounsaturated fatty acid that belongs to the Omega-9 class. Cedar nut oil contains up to 15% oleic acid. Among its special properties are the following:
Normalization of cholesterol levels [6]
Anti-inflammatory effect. It reduces the duration of any disease associated with inflammation (from respiratory diseases to arthritis)
This acid reduces the risk of certain types of cancer, particularly breast cancer. [7]
Pinolenic acid
Pinolenic acid is one of the rarest in the composition of cedar nut oil. It makes this product truly unique. Pinolenic acid belongs to the delta-5-uninterrupted methylene fatty acids (NMIFA) that can be found in a very limited list of foods. A large-scale meta-analysis conducted by British scientists last year proved that pinolenic acid:
- suppresses inflammatory processes
- has immunomodulatory property
- improves lipid levels in the blood and liver. [8]
Thus, many of the healing properties of cedar nut oil are due to its high fatty acid content. At the same time, all nutrients work in a complex manner, providing powerful support to all body systems and all organs.
---
REFERENCES:
[1] Hamilton JS, Klett EL. Linoleic acid and the regulation of glucose homeostasis: A review of the evidence.
[2] Djuricic I, Calder PC. Beneficial Outcomes of Omega-6 and Omega-3 Polyunsaturated Fatty Acids on Human Health: An Update for 2021.
[3] Naghshi S, Aune D, Beyene J, Mobarak S, Asadi M, Sadeghi O. Dietary intake and biomarkers of alpha linolenic acid and risk of all cause, cardiovascular, and cancer mortality: systematic review and dose-response meta-analysis of cohort studies.
[4] Ding Y, Wang Y, Li C, Zhang Y, Hu S, Gao J, Liu R, An H. α-Linolenic acid attenuates pseudo-allergic reactions by inhibiting Lyn kinase activity.
[5] Saito, Fukuhara, Osaki, Healthcare Food Research Laboratories, Japan, 2016
[6] Grundy SM, Florentin L, Nix D, Whelan MF. Comparison of monounsaturated fatty acids and carbohydrates for reducing raised levels of plasma cholesterol in man.
[7] Franceschi S, Favero A, Decarli A, Negri E, La Vecchia C, Ferraroni M, Russo A, Salvini S, Amadori D, Conti E, Montella M, Giacosa A. Intake of macronutrients and risk of breast cancer.
[8] Baker EJ, Miles EA, Calder PC. A review of the functional effects of pine nut oil, pinolenic acid and its derivative eicosatrienoic acid and their potential health benefits.