Holiday Season is creeping upon us, the feeling of joy, laughter, and happiness is already felt in the air!
May this Holiday Season surround you and your family with love, pleasant surprises, and treasures of Christmas moments, which will turn into a delightful memories remembered with a smile throughout the year.
We are inviting you to celebrate this Holiday with us, and spread the warm energy of Siberian Cedars through below carefully selected Gift Ideas:
GIFT 1: TURPENTINE BALSAM AND CEDAR SPOONS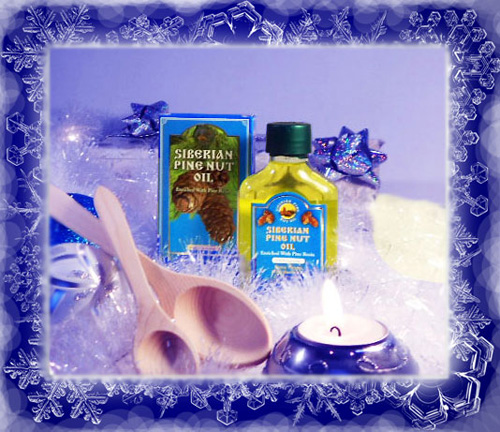 Cedar Nut Oil with Cedar Resin is also known as Turpentine Balsam. As Resin is known to be a strong disinfectant and antiseptic, it is widely used in luxurious hair and facial cremes, as when it is applied externally it can assist in: fighting cellulite, improve skins complexion, reduce wrinkles and calms an irritated skin. Simply, massage your body and face in circular motion to allow the Balsam to penetrate deeply into your skin.
As you may have heard that everything starts from within our body; therefore it is also essential to intake the Cedar Nut Oil enriched with Cedar Resin internally. When taken internally, Turpentine Balsam can assist with various stomach conditions such as ulcers, gastritis, acidity, constipation, and irritated bladder and intestines.
When you begin to drink the Turpentine, your immunity will increase. The Oil increases the content of phagocytes in the blood, which destroy viruses, parasites, and foreign pathogens. All the glands and organs of your body will begin to function more intensively and more effectively, improving your overall immune system.
For an optimal health experience, it is best to ingest the oil using traditional 100% natural Cedar Spoon. Cedar Trees are known to accumulate positive bioenergy through their pointing needles, and the benefits of this energy are passed on to the person using any wooden products made from it. Cedar Spoon will not only protect you from harmful heavy metals present in the conventional flatware, but also improve the taste of your food; as unlike metal, the wooden spoon does not oxidize the food nor degrades its quality.
GIFT 2: CEDAR TOOTHPASTE AND CEDAR GUMS (RESINS)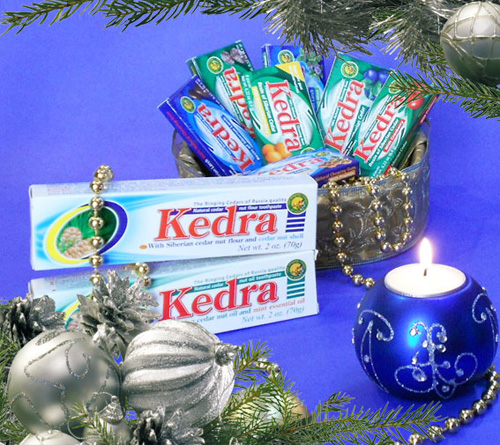 Kedra, Cedar Nut Toothpaste with Cedar Nut flour and Cedar Nut Shell is made with 100% natural ingredients, will ensure to provide the feeling of superior freshness and provide the confidence in this Holiday Season's interactions.
The toothpaste does not contain fluoride, sodium lauryl sulfate, sugar, or synthetic chemicals or colors, which makes it top choice for many health conscious families. It is suitable for both children and adults oral hygiene. It will also assist in severe oral issues such as: inflammations, irritations, or bleeding gums.
In between brushing, use the various Kedra Gums, based on main ingredient the Cedar Resin (a powerful natural disinfectant) to ensure that your mouth is at an ultimate freshness throughout the day.
GIFT 3: ESSENTIAL OILS AND FRESH FEET CREME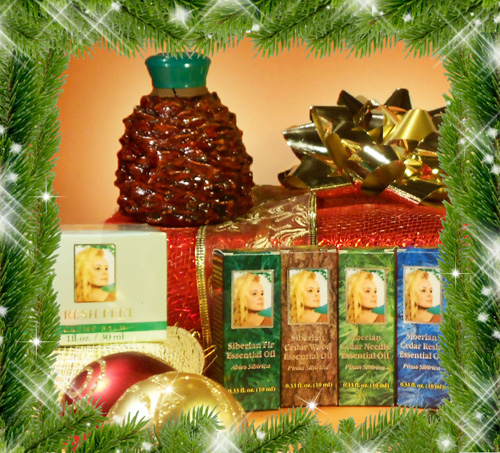 When added to baths the Essential Oils can assist in eliminating fatigue/stress, nourishing skin, calming inflammation, increasing mental and physical alertness, relaxing muscles tension and soreness.
Since the Cedar possesses disinfecting properties, the Essential Oils can be placed in a diffuser for purifying the air, as opposed to using conventional air fresheners which can cause allergies and pollute the air with harmful chemicals.
Many also favor using the Essential Oils for massages, as they get easily absorbed into skin, leaving it well moisturized, while assisting in improving its texture and tone.
The Essential Oils are available in the following aromas: Cedar Needle, Cedar Wood, Cedar Cone, Fir, and Cedar Resin. All the essential oils have the same properties and are equally great; therefore simply choose an aroma that you think you or your loved one would favor most.
Combining the essential oils, with Fresh Feet Creme, would ensure that this Holiday Season will be extra relaxing. It is made from all natural ingredients that will soften, protect, disinfect, and moisturize. The creme has wonderful aroma, and is very gentle.
GIFT 4: CEDAR NUT OIL AND PENDANT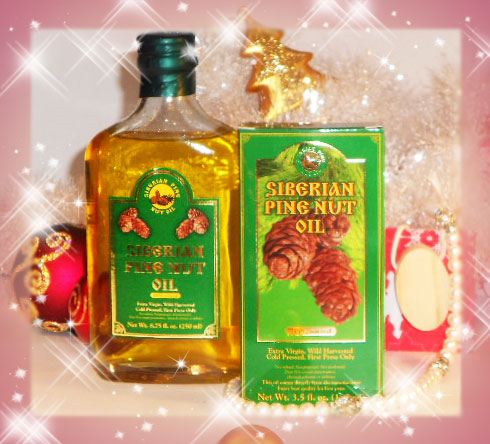 Since the ancient times, Siberian Cedar Nut Oil was used by adults as well as children as an effective natural remedy for various diseases, and as a natural substitute for daily vitamins. The Cedar Oil is loaded with vitamins D, B, C, E and is highly rich in fatty acids, omega 3 and omega 6 which are essential for an optimal functioning of our organism, and the development of a child's brain/bone structure. The oil is not diluted nor it is infused with additives, and is 100% pure; therefore it can be used by pregnant or nursing women.
The Cedar Nut Oil can assist in fighting off various gastrointestinal diseases. It also possesses excellent wound-healing properties, and can help with treating: burns, frostbite, ulcers, and various other skin diseases. It rejuvenates the skin and makes it supple and smooth. Furthermore, it helps to eliminate dandruff, combat brittleness and hair loss. Interesting to note, that Cedar Nut Oil is not contraindicated for people with oily skin, it nourishes it well, and as strange as it may seem, assists in the reduction of the oiliness.
The Cedar Pendants, which are available in Oval and Circular shapes, would go wonderfully as a Gift with the Cedar Nut Oil. They are now made from the barrel of the trees, which is the core of the Cedar tree, where the most of the bioenergy is concentrated. It is believed that those who wear one will be connected to the universe and experience greater concentration and mental alertness.
GIFT 5: CEDAR PILLOW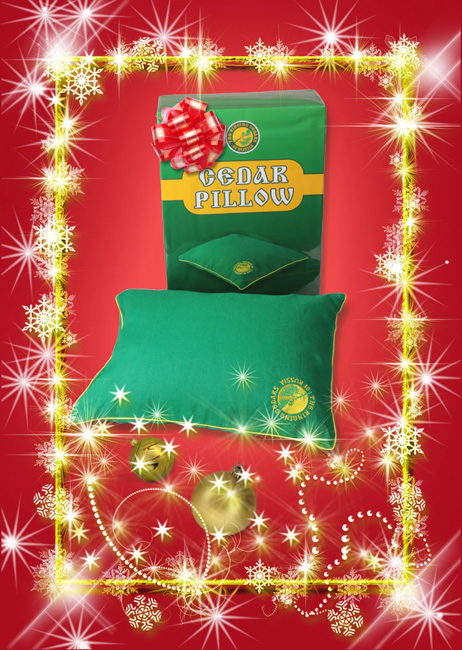 When placed in a room, the Cedar Pillow will not only disinfect the air, but also provide comfortable support, which will result in restful, deep and healthy sleep.
The wonderful aroma of the Essential Oils emitted by the Cedar Film from which the Pillows are made; will provide the feeling of deep relaxation, and the sensation of being surrounded by the purifying nature of Cedar Forest.
The Cedar Film is rich in Essential Oils, which have a tendency of getting absorbed into the blood steam with every breath you take, and expend your arteries; which allows for a much quicker blood circulation;, and therefore is wonderful for prophylactics of various respiratory and cardiovascular diseases.
The bioenergy healers claim that Cedar Pillow creates natural energetic shell of 1 meter radius that can protect your family from the harmful emissions of computer and electric appliances.
We all dream of natural, deep and restful sleep, which makes this Gift of nature perfect for anyone!
Wishing you all a wonderful time with family and friends,
Merry Christmas & Happy New Year!
Prepared by: Victor Rod