You don't have to go to a spa to devote time to self-care and relaxation. Pleasant beauty treatments can be done at home as well.
Use cedar nut oil enriched with resin for your Spa treatments. This way you will get a good vibe, and also solve a number of problems thanks to the bio-active elements contained in cedar nut oil and resin. The resin extract is rich in vitamins of group B, vitamins E, A, and D, zinc, phosphorus, and unsaturated fatty acids.
Thus,Spa treatments with cedar nut oil enriched with resin regenerate and moisturize skin slowing down aging. Cedar nut oil enriched with resin also strengthens nails by elminating brittleness and delamination.
Relaxing foot soak
This treatment will help relieve fatigue and soften rough feet.
Heat a couple of liters of water. Its temperature should be 36-37 °C (97-99 °F). Pour water into a deep basin or bowl. The water level should be up to your chanks. Add 3 table spons of cedar nut oil enriched with resin to the water and soak your feet in the water for 10-15 minutes. Then dry your feet thoroughly with a towel and use your regular foot cream.
You can add other ingredients:
- a couple of drops of lavender essential oil will enhance the relaxing effect;
- 2 tablespoons of chamomile and mint infusion will have a deodorant effect;
- a tablespoon of sea salt will accelerate the regenerating effect of cedar nut oil enriched with resin.
Moisturizing hand mask
This mask will make your hands incredibly smooth. You will need:
- a teaspoon of honey
- 1 raw yolk
- 1 teaspoon of cedar nut oil enriched with resin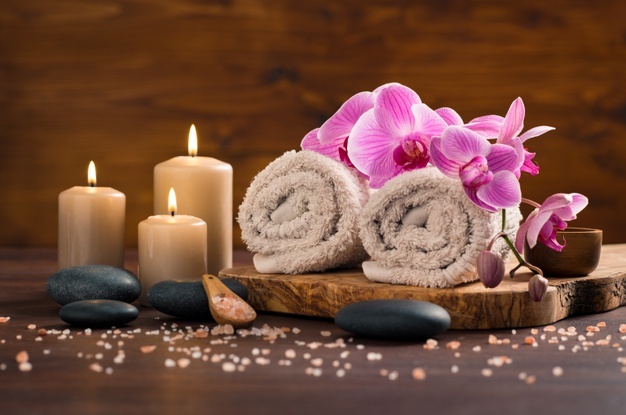 Spa treatment
Mix all ingredients. Apply the mixture to your hands, and put on cotton gloves. Leave it on for 20 minutes, then wash off with warm water. There is no need to apply the cream after this treatment - the skin is moisturized and pleasant to the touch. A pleasant cedar smell remains on the hands.
Fruit peeling for hands
This treatment gently exfoliates dead skin particles. Thus, it promotes tissue regeneration and renewal.
Prepare your peeling mixture in advance. Ingredients:
- Any berries or fruits. For example, strawberry, kiwi, banana, and pineapple.
- 2 tablespoons honey
- 1 tablespoon oat flour
- 1 tablespoon of cedar nut oil.
Grind berries and fruits in a blender. Add the rest of the ingredients to it. Stir the mixture thoroughly.
We recommend applying peeling on warmed skin. To do this, put your hands in a container of warm water for 3-5 minutes. The water should not be too hot, it should be at a comfortable temperature. You can add any aroma oil or a couple of drops of cedar essential oil to the water.
When the skin of your hands is ready, you can start peeling. Apply the previously prepared mixture to the skin of your hands and rub it in with gentle massaging movements for 5 minutes. No need to rub your skin hard: the procedure is a calm hand massage. Then wash off the mixture with warm water.