Cedar Nut Flakes are the best quality breakfast for any family. Full of plant protein, vitamins and minerals cedar nut flakes help maintain health.
Dr. Andrey Belov, dietologist,
"Moscow Center of Personal Dietology", Moscow, 2012
TABLE OF CONTENTS
1. WILD HARVESTED, ORGANIC GRADE CEREAL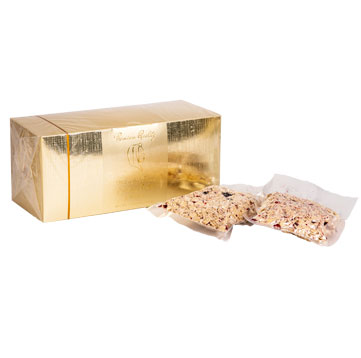 Cedar Nut Flakes with Dry Fruits
Comes in 5 portion bags
"Cedar Power" is a natural raw breakfast designed specifically to enrich healthy, raw-food and sport diets. It is similar to regular breakfast cereals; however the cedar nut flakes were not heated or processed in any way.
The flakes of the cedar nut are obtained by cold pressing the cedar nut oil from the kernel of the cedar nut using wooden press. Wild harvested, organic grade cedar nuts are gathered manually in vast Taiga cedar forests, manually sorted in order to obtain the best quality cedar nut oil and cedar nut flakes. In contrast to the whole cedar nut, cedar nut flakes are distinguished by their increased proportional content of vitamins, trace elements, and plant proteins owing to the reduction of the fat content. In the processing of pressing the cedar nut oil, 10-16% of the cedar nut oil is retained in the flakes.
2. PROTEIN OF "CEDAR POWER"
The protein in the flakes made from the kernel of the cedar nut surpasses an ideal protein in its content of histidine, methionine, cysteine, and tryptophan, and has a well balanced composition. The carbohydrate composition of the kernel of the cedar nut is represented by polysaccharides (starch, cellulose, pentosans, dextrins) and water-soluble sugars (glucose, fructose, sucrose, and raffinose). According to the results of medical research, a similar protein facilitates the dissolving of harmful cholesterol in the blood, and also prevents the formation of cancer cells.
3. "CEDAR POWER" IMPROVES BRAIN ACTIVITY
The lecithin contained in "Cedar Power" is a basic chemical substance for the formation of the intercellular space, the normal functioning of the nervous system, and the healthy activity of brain cells. Lecithin is essential for the organism as a building material for the renewal of damaged cells. Lecithin is also the basic transport substance for the delivery of nutrients to the cells. Lecithin makes up 50% of the liver, 1/3 of the myelin insulating and protective tissues that surround the cerebrum and spinal cord. Lecithin is a powerful antioxidant and prevents the formation of highly toxic free radicals in the organism.
4. VITAMINS AND MINERALS OF CEDAR NUT FLAKES
Flakes made from the kernel of the Siberian cedar nut contain a high quantity of mineral substances - up to 5%, which are represented by a specific set of macroelements and trace elements. There is a high content of phosphorus and magnesium. Only 100 g of cedar nut contains the human daily requirement of magnesium, manganese, copper, zinc, and cobalt. Of special interest is the cedar nut as a natural source of iodine. The daily requirement of iodine is 0.1-0.2 mg, and the cedar nut kernel contains on average 0.577 mg/kg of iodine.
The importance of the flakes with regard to vitamins is characterized by the presence of fat-soluble and water-soluble vitamins, the most basic of which are vitamin F, the tocopherols, thiamine, and riboflavin.
5. RECOMMENDATIONS FOR THE FOLLOWING HEALTH CONDITIONS
The use of "Cedar Power" is recommended:
for ulcerous conditions of the stomach and duodenum;
in increased acidity and gastritis;
in pulmonary diseases and tuberculosis;
in nervous disorders;
in diseases of the kidneys;
in diseases of the thyroid gland related to an insufficiency of iodine;
in blood and lymph diseases;
in malnutrition and emaciation.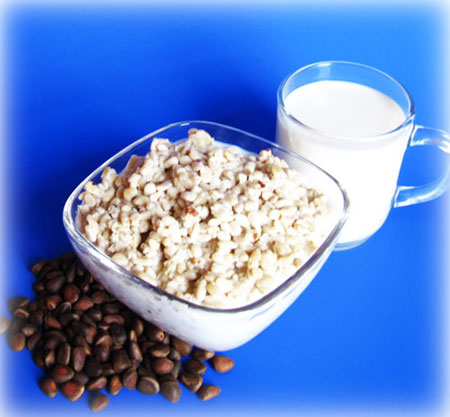 "Cedar Power " should definitely be present in the food allowance of pregnant women, children, and breast-feeding mothers (for lactation). In olden times, when milk was completely absent, children were fed with a mixture prepared from cedar nut flour.
Cedar nut flakes are natural protein, and are extremely suitable for athletes to increase muscle mass.
The flakes have a pleasant nutty taste and aroma, are easily digested, and can include particles of the membrane of the cedar nut pericarp, which is rich in potassium.
6. DIRECTIONS FOR USE:
"Cedar Power" is used as a complement to food (in porridge, salads), as part of flour-based confectionaries, as well as a separate food product. The consumption of 3-5 tablespoons of flakes a day fully provides the organism with essential components.
7. RAW BREAKFAST. COOKING INSTRUCTIONS:
1. Fill the bowl with pine nut flakes.
2. Blend your flakes with honey and/or fresh or dry fruits (for example, banana slices, strawberries, kiwi fruit, peach slices etc.)
3. Add warm milk just to cover ingredients and stir. Add more milk if the mix seems too thick and stir again. Instead of milk you can add juice, maple syrup, kefir or yogurt.
4. Depending on the type of liquid you use, you may wish to leave "Pine Power" for 10-15 minutes to mesh well with it.

8. "CEDAR POWER" RECIPES
1. Cedar Nut Flakes Salad. In a large bowl mix together 1/2 pound romaine lettuce, 1/2 pound quartered cherry tomatoes, 1/2 pound sliced cucumbers, 1/3 cup cedar nut flakes and 1/8 cup finely chopped fresh basil. Pour 3-4 tbsp cedar nut oil and squeeze 1/2 lemon. Add salt to taste and toss well.
2. Tahini Sauce. Mix together 2 tbsp raw tahini, 1/2 juiced Lemon, 1tbsp Honey, 2 pressed garlic cloves and 2 tbsp cedar nut flakes. This sauce goes deliciously with crackers.
3. Protein Milk. Makes: 4-7 cups. Combine 1 cup cedar nut flakes and 3-5 cups water in a blender. You can create the desired thickness by using more or less water. Blend on high for 4-5 minutes. To sweeten add honey, bananas, dates, figs, raisins, maple syrup or your favorite fruit. Blend again until smooth. You can enjoy it thick or strain it through cheesecloth. Protein milk is perfect alone and with your meal. It will keep for 2 days in the refrigerator in a sealed glass container.
9. CUSTOMERS REVIEWS:
Excellent product [Cedar Power], best of the best on the market. I have 12 boxses and want to eat them every day. Very nourishing, delicious and healthy product, balances body and mind.

Thank you, Elena
* * *
I am on an elimination diet to regain better health, having a damaged immune system and digestion. Since I cannot have any grains, the Cedar Power Cedar Nut Flakes have been a godsend for breakfast (you can eat only so many greens in a day!). I make them with hot water, letting steep while I drink my tea, and love the nutty taste in the morning. Thanks! Looking forward to trying the recipes.

Debor Austin, TX, USA
* * *
The cedar nut flakes are very nutritional! The first time I put a bowl of them with milk and felt full after eating just half of it. I add few table spoons in my other cereals and salads every day and I love their delicate taste.

June Taylor, USA
* * *
I have been using cedar nut flakes for 3 months and I have to say that cedar nut flakes help me build muscle mass. Before I was taking sport protein shakes, but they used to upset my stomach. Cedar nut flakes give me feeling of fullness but yet lightness inside. I am happy with this product and will continue using it.

Thanks, Brian Fish, Sydney, Australia
10. WHERE TO BUY CEDAR NUT FLAKES:
Cedar nut flakes can be purchased at our ONLINE STORE or CATALOG. Simply choose the closest to you warehouse.
Also you can place your order by PHONE any time.
http://www.RingingCedarsofRussia.org/
Used by permission
Copyright CedarNuts.org
---

These articles come directly from researchers and are passed on to everybody. The company assumes no liability for any content in these articles.
For Educational purposes only.
This information has not been evaluated by the Food and Drug Administration.
This information is not intended to diagnose, treat, cure, or prevent any disease
http://www.ringingcedarsofrussia.org/
Used by permission.
© Copyright RingingCedarsofRussia.org
RingingCedarsofRussia.org assumes no liability for any content in these articles.