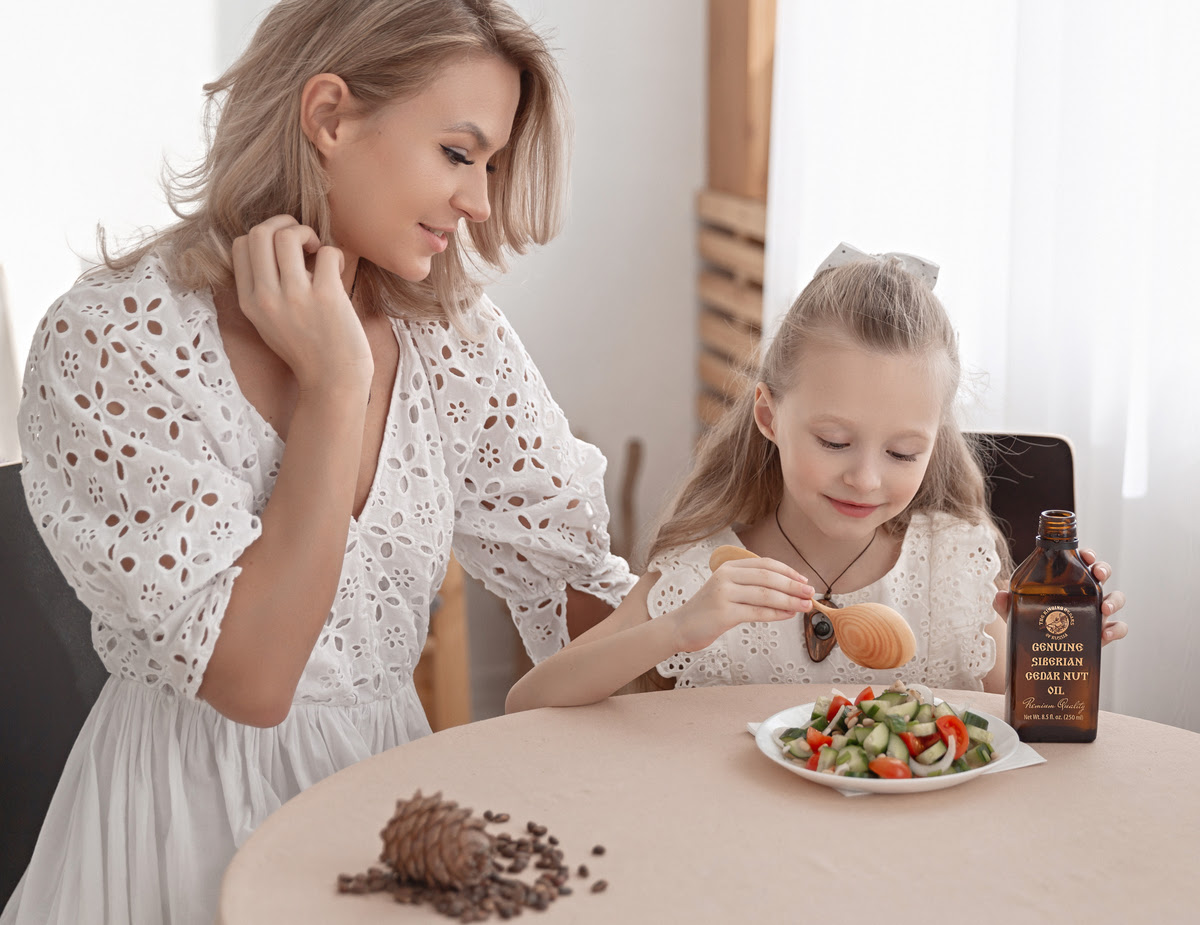 Cedar nut oil inspires culinary experiments. It has a pleasant nutty taste and mild aroma that will enrich any dish. Numerous vitamins, minerals, and fatty acids that make up the oil will make any dish even more useful. Since the oil loses its positive properties when heated, the best way to use it is as a dressing for both cold and hot dishes. You can use the oil in its pure form or prepare unusual sauces that will bring out the unique taste of cedar oil even better.
Mediterranean sauce
This sauce goes especially well with salads with fresh herbs and vegetables, but also with sandwiches and bruschettas.
Ingredients
70 g Greek yogurt
2 tbsp. cedar nut oil
1 tbsp. lemon juice
15 g parmesan or other hard cheese
1 tsp dried garlic
1 tsp Italian herbs
salt, pepper — to taste
Mix yogurt with the oil and lemon juice. Grate the cheese on a fine grater and add it to the yogurt. Add salt, pepper, Italian herbs, and dried garlic to the mixture. Stir the sauce thoroughly until smooth.
Honey-mustard salad dressing
We recommend using this dressing for warm salads or to complement hot dishes. The sauce can be stored in the refrigerator for a couple of weeks.
Ingredients
120 ml vinegar
240 g mayonnaise
1 tsp mustard
1 tsp sugar
1 tsp finely chopped onion
170 g honey
1 tsp finely chopped parsley
¼ tsp salt
¼ tsp ground black pepper
100 ml cedar nut oil
Mix vinegar, mayonnaise, and mustard. Add sugar, onion, honey, parsley, salt, and pepper. Whisking constantly, pour in the cedar nut oil in a thin stream. Stir until smooth.
Avocado dressing
This sauce is quite thick, so it can be used not only for salads and hot dishes, but also spread on croutons or sandwiches. The dressing can be stored in the refrigerator for several days.
Ingredients
1 ripe avocado
60 ml white wine vinegar
whole lemon juice
salt, ground pepper - to taste
100 ml cedar nut oil
Peel the avocado and remove the pit. In a blender, combine the avocado pulp, vinegar, lemon juice, salt, and pepper. While continuing to beat the mixture, gradually pour in the oil until you achieve a homogeneous consistency.
Orange sauce
Great for fruit salads. It can also be added to cereals and muesli.
Ingredients
60 ml orange juice
3 tbsp. red wine vinegar
2 tsp honey
1 ½ tsp Dijon mustard
1 tbsp. cedar nut oil
Mix all ingredients in a container with a tight-fitting lid. Shake the mixture well and put it in the refrigerator. Shake again before use.
Bon appetit!