Cedar Nut Oil in The Treatment of Heartburn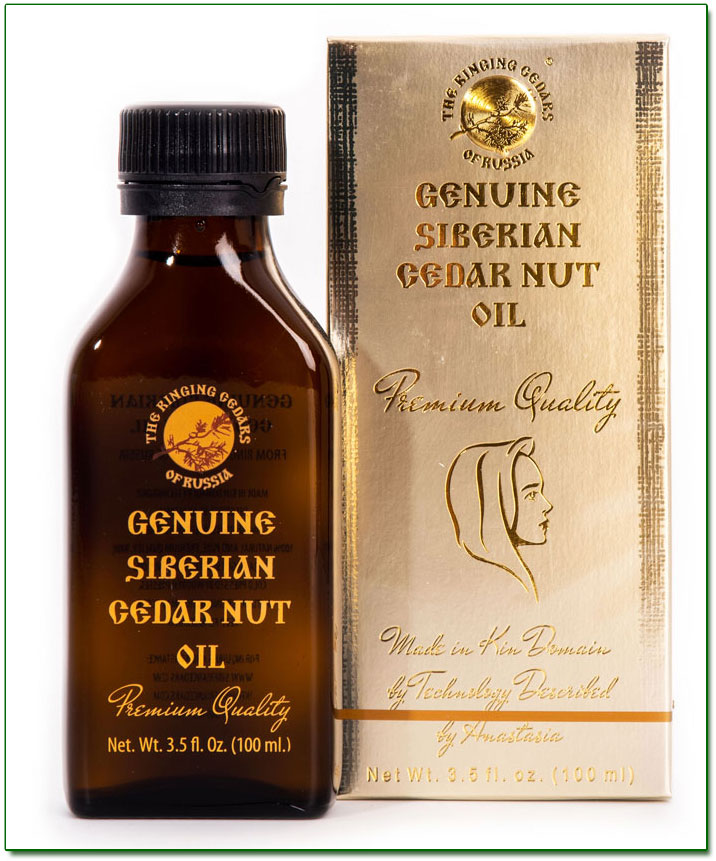 One of the indisputable virtues of cedar nut oil is its successful use for the treatment of heartburn.
In itself, heartburn is not a disease. Not always, but fairly often, it is a symptom of serious illnesses of the gastrointestinal tract, or can lead to such illnesses if it is continually ignored and the person thinks that "it will go away on its own." In any case, the sensations from heartburn are extremely unpleasant and annoying. A burning sensation in the area of the solar plexus or behind the breastbone wears us out, does not let us work normally or relax peacefully. Heartburn prevents us from thinking about anything else but the heartburn itself.
Of course it is essential to get rid of heartburn - to be in a good mood and have better health. But how? With the help of the natural remedy - cedar nut oil.
Why does heartburn occur?
It occurs most often because of high (increased) acidity of the stomach contents. Our mucosa is irritated by corrosive hydrochloric acid, which causes the unpleasant burning sensations.
Heartburn may also be experienced by people with low stomach acidity because they have an extremely sensitive stomach and esophagus. As already mentioned, heartburn may be a symptom of more serious disorders - gastritis, and ulcers of the stomach and duodenum. For this reason, if you have been "tormented" by heartburn, you should see a doctor to exclude any disorders of the gastrointestinal tract. A separate topic is heartburn during pregnancy. Most often, this occurs in the second and third trimester and is accompanied by a sour or bitter taste in the mouth. This type of heartburn occurs because the baby is actively growing, squeezing its mother's organs and making it easier for gastric juice to enter the esophagus.
Finally, a cause of heartburn may be an improper diet, with an excess of fatty, fried, and spicy food. This type of insult to the body leads to a weakening of the tonus of the esophageal sphincter, which stops holding back acid. The acid is discharged and - hello, heartburn! Even the healthiest person will certainly experience heartburn with a regular unhealthy diet.
How can heartburn be cured at home using cedar nut oil?
Begin your treatment of heartburn with your diet. Cedar nut oil will definitely help you with treatment if you help yourself a bit as well. Watch yourself, and eliminate products that cause you heartburn. For someone that may be coffee, for someone else, whole milk, for yet another person, smoked sausage or citrus fruits. If you are bothered by heartburn after every instance of consuming food (irrespective of the presence of a specific food product), prepare yourself for a stricter diet. Gastroenterologists recommend:
1) to abstain from fatty, fried, sour, salty, spicy, and smoked foods;
2) to abstain (even temporarily) from coffee, chocolate, strong tea, and alcohol;
3) not to overeat, but consume food often but in small portions;
4) not to eat foods at very high temperatures;
5) not to lie down immediately after eating;
6) not to do strenuous physical exercises, not to jump and not to run at least a half-hour after eating.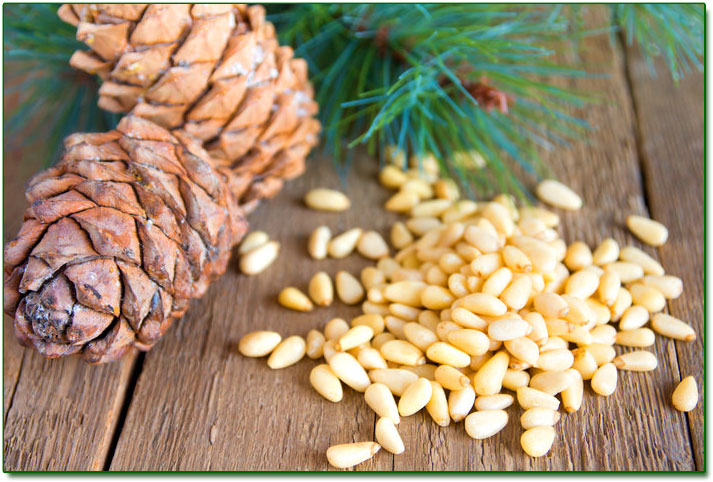 How should cedar nut oil be taken to treat heartburn?
Take one tablespoon of cedar nut oil 15-30 minutes before eating. The duration of the treatment is one month, although severe heartburn will diminish after several days.
After a month, a strict diet need not be observed, but the general recommendations of physician nutrition specialists are nevertheless worth following. For preventive treatment, it is sufficient to take one tablespoon of cedar nut oil a day - for example, one half-hour before breakfast. An excellent option is to add cedar nut oil according to taste to salads and other dishes.
It is very important to note that, since it is, at the same time, a natural medicine and food product, cedar nut oil does not have any contraindications for its use both as a food as well as for preventive medical purposes. The secret of treating heartburn using cedar nut oil lies not only in the fact that the gentle oily substance coats the walls of the stomach and esophagus, but also in the unique composition of cedar nut oil, which is impossible to synthesize.
Cedar nut oil makes the entire body more healthy, namely:
- it strengthens the immune system;
- it has a beneficial influence on the mucous membrane of the digestive tract;
- it demonstrates an anti-inflammatory effect;
- it stimulates the release of hormones that assist in absorbing nutrients and suppress the secretion of hydrochloric acid;
- it restores the body's nutritional balance.
And finally, we had a good reason to dwell on the treatment of heartburn during pregnancy separately. Cedar nut oil is a completely natural product without any contraindications (except for extremely rare cases of individual intolerance), which is extremely important during pregnancy, when synthetic pills and preparations are not advisable and are prescribed by physicians with more caution than usual. Cedar nut oil will assist not only in coping with the bother of heartburn, but will also have a general strengthening effect on the body of the future mother and her child.
Ksenia S. Selezneva, PhD, Gastroenterologist, Dietitian and Nutritionist
Customer Reviews:
I once tried [company name removed] cedar nut oil and I was not satisfied. I started to buy Siberian cedar nut oil from your company for over 3 years. It is the best product on the market as it completely solved my H. pylori problem.
John Kuc, USA
* * *
I have taken the Siberian Cedar Nut Oil for one week. I stopped my Nexium the very first day I started the Cedar Nut Oil. This product is awesome. I have hardly any heartburn, nausea, GERD. I can hardly wait to see what I will feel like after a month. Thank God that a natural product works so well.
Kay Metzger, USA
* * *
For the first three weeks of taking 1 tablespoon/day cedar nut oil, everything tasted different. After the first three wks of use, I feel better, no longer have heartburn, many aches/pains have vanished and I have more energy. The flavor is mild too.
Connie Voss
Buy Genuine Siberian Cedar Nut Oil for $35.80:

Cedar Nut Oil - A Natural Weight-loss Supplement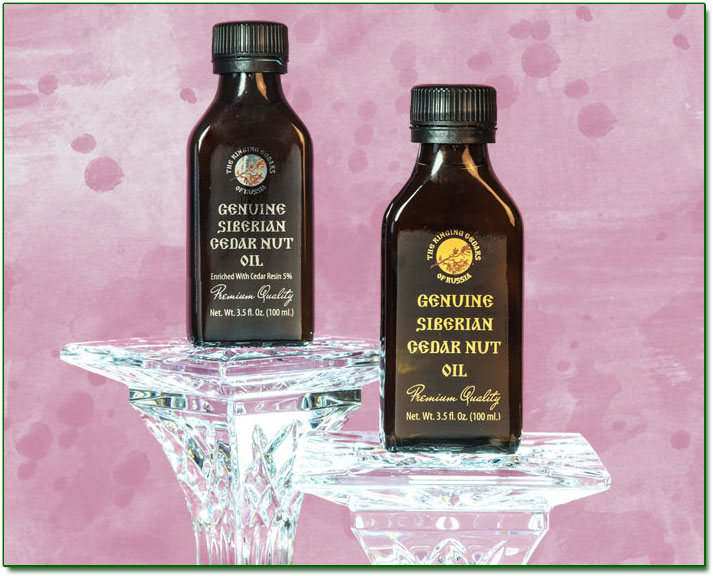 Physician nutrition specialists and internists consider cedar nut oil to be an effective weight-loss supplement. The medicinal properties of this unique natural product in the treatment of various illnesses is well known, and the general fortifying qualities of this product are no secret. But not everyone is aware of the reasons why cedar nut oil assists in losing weight while preserving and even improving health. Let's have a look!
What happens to the body of a person who has set himself or herself the goal to lose weight and has gone on a diet? The body experiences stress! Its usual "daily routine" suddenly changes: instead of its familiar food products, it unexpectedly begins to receive completely different foods and in quantities that are not the same as before. One could say, "Well, what do you know - stress! We can take it," if there were not that single very important "but." When you go on a low-calorie diet, you and your calories begin to receive fewer unsaturated fatty acids, vitamins, and trace elements than you require. The stress that your body experiences from the change in its food ration begins to intensify from a lack of the macroelements and trace elements that are vitally essential for the normal functioning of your systems and organs. The reproductive, nervous, cardiovascular, and hormonal systems begin to suffer. It turns out that, in your striving to shed excess weight and improve your health, you, on the contrary, are damaging your health. Is there a way out of this paradoxical situation? Yes, and that way out is to use cedar nut oil as a natural and trusted weight-loss supplement, a supplement whose effectiveness has been demonstrated in practice by popular and conventional medicine.
How is cedar nut oil beneficial for losing weight?
First of all, there is the presence of arginine in the product - a conventionally essential amino acid. Arginine is well known to fitness enthusiasts, who use it as a food additive, since this amino acid facilitates the reduction of the fatty layer and the growth of muscle tissue. It should be immediately emphasized that cedar nut oil and the arginine it contains will not help to improve the shape of a person who sits on a chair all day and spends the evening lying on a couch. This must be understood!
Second, cedar nut oil contains vitamins A and E. Each of these separately, as well as together in a complex, these vitamins of beauty and youth are powerful antioxidants. In the process of losing weight, they will maintain the elasticity of the skin and will help to maintain its tonus. You must agree that a person who has lost weight but who has flabby skin looks very unpleasant. In addition, vitamins A and E are essential for the proper functioning of the reproductive system. It is not by chance that gynecologists and endocrinologists designate an excessively low percentage of body fat as one of the main risk factors influencing the level of reproductive hormones in women. The use of cedar nut oil will help you to lower these risks. And it goes without saying that you will have beautiful hair, for which vitamins A and E are essential!
Third, cedar nut oil is a source of linoleic acid, which, according to the data of some scientists, reduces the appetite. Its use ensures the production of a number of hormones that send the satiation signal to the brain. If you take a teaspoon of cedar nut oil before eating, you will suppress your appetite and so you will eat less. It is important to note that this method is especially good with fractional eating, while the "oil consumption" procedure will help you follow the diet prescribed by the nutritionist.
How exactly do you use cedar nut oil to lose weight?
1. Take one teaspoon of cedar nut oil one-half hour before eating. For a fat-free food portion, the dose is increased to one tablespoon. With these doses, the oil can be taken during a meal, but not with hot dishes, only cold.
2. A green salad may be simply seasoned with cedar nut oil. Especially since cedar nut oil is considered a delicacy, fairly tasty with a pronounced nutty aroma. It is excellent in combination with garlic, spicy herbs, and lemon.
3. This method is very original: take cedar nut oil with coffee. This will be suitable when using one of the intermittent fasting systems. In the morning, drink a cup of coffee (not hot), but prior to this take one tablespoon of oil. Eat nothing else before dinner. Count 8 hours from dinner time, and during this "window" eat your daily food ration. Then follow this with a 16-hour fasting "window" and in the morning, oil and coffee again.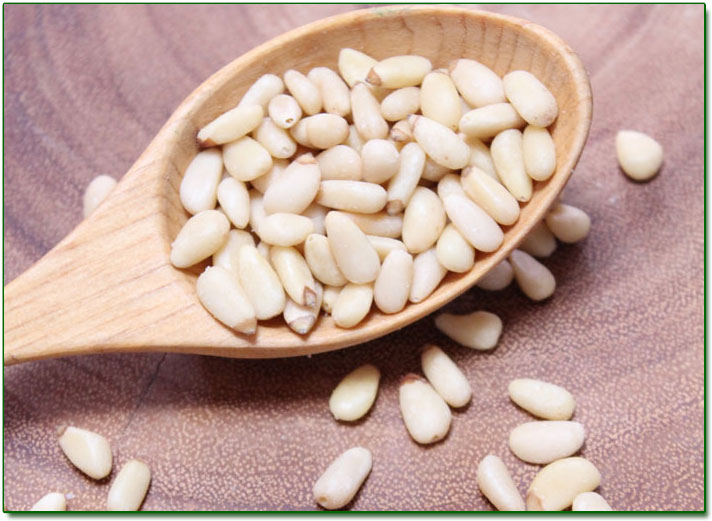 4. To lose a few kilograms quickly, instead of eating, take one tablespoon of oil three times a day and drink two litres of water. Use this extreme method only when absolutely necessary!
So, let us sum up. With the help of cedar nut oil you will lose weight without experiencing stress. You will lose weight pleasurably and while benefiting your health. You will not only get rid of excess kilograms, you will become younger and better looking. The main thing to remember is that even a unique natural product such as cedar nut oil is not a panacea for excess weight. You will obtain the maximum effect from using this natural weight-loss supplement if you follow the diet selected for you and do not forget about physical activity!
Ksenia S. Selezneva, PhD, Gastroenterologist, Dietitian, Nutritinist
Customer Reviews:
Cedar nut oil is good. My doctor and I both use it with good success.
Dennis Hildebrandt, Winnipeg, MB, Canada
* * *
I love the pure cedar nut oil. I get nervous when I run low! I take it in the morning and at night, both internally and topically. It makes a world of difference!
Daniel Macintyre
* * *
I have just received the cedar nut oil. I must say the effect and the taste is amazing! This is the freshest oil I have tasted yet. Thank you very much for providing such wonderful product!
Anna, USA
Buy Genuine Siberian Cedar Nut Oil for $35.80:


PAPPARDELLE WITH SPICED BUTTER AND CEDAR NUTS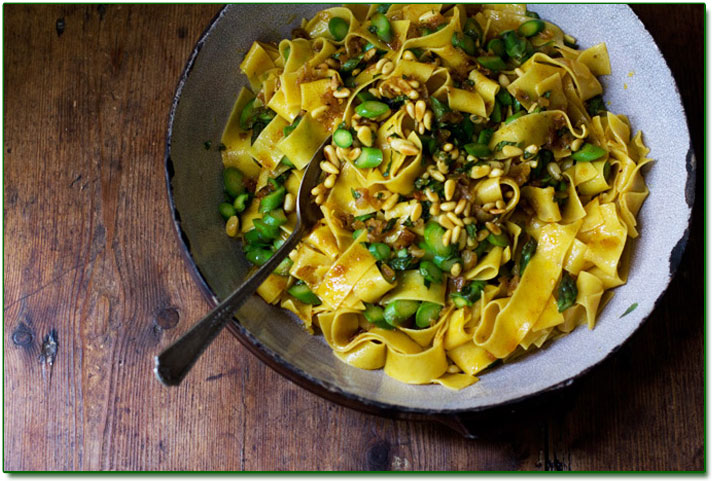 Ingredients:
- 1/4 teaspoon saffron threads
- pinch of salt
- 1 stick / 4 oz / 100 g butter
- 2 tablespoons cedar nut oil
- 6 medium shallots, chopped
- 1/2 teaspoon ground ginger
- 1/2 teaspoon sweet paprika
- 1/2 teaspoon ground coriander
- 1/2 teaspoon ground cinnamon
- scant 1/2 teaspoon cayenne pepper
- 1/4 teaspoon red chile flakes
- 1/4 teaspoon ground turmeric
- 1/4 teaspoon+ fine grain sea salt
- black pepper
- 1/2 pound / 8 oz / 225 g dried pappardelle egg pasta
- 1/2 pound / 8 oz / 225 g asparagus, sliced into 1/4-inch rounds
- splash of cream
- 1/2 cup / 2 oz / 60 g cedar nuts, toasted and chopped
- 2 tablespoons roughly chopped mint
- 2 tablespoons roughly chopped parsley

Preparation:

Place a large pot of water over high heat and bring to a boil. In the meantime, use a mortar and pestle to crush the saffron and salt into a fine powder. Set aside.

To make the spiced butter: Place the butter and cedar nut oil in a frying pan and cook the shallots gently for about 10 minutes, or until they soften and the butter browns just a bit. Stir in all the spices, the salt, and a bit of freshly ground black pepper, remove from heat (but keep warm).

Salt the water generously and cook the pasta per the package instructions, or until al dente. Barely thirty seconds before the pasta has finished cooking, add the asparagus. Drain and return the pasta and asparagus to the pot. Stir in the saffron salt. Pour about half of the spiced butter over the pasta, add a small splash of cream, and toss well.

Serve the pasta in a large bowl, or divided across plates, sprinkle with cedar nuts and herbs.

Serves 4 - 6.

ROASTED BROCCOLI WITH LEMON AND CEDAR NUTS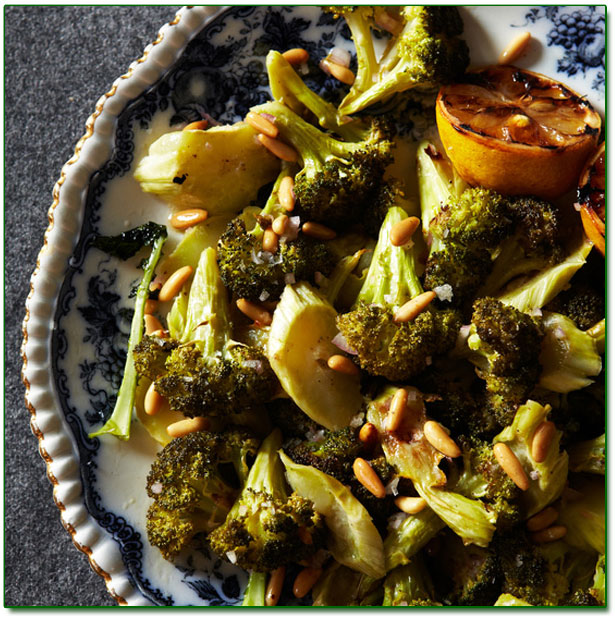 Ingredients:
- 1 large head of broccoli (1 1/2 pounds), cut into 1 1/2-inch florets, stems peeled and sliced 1/4 inch thick
- 1/4 cup cedar nut oil
- salt
- Freshly ground pepper
- 1 1/2 tablespoons cedar nuts
- 2 teaspoons fresh lemon juice
- 1 teaspoon minced shallot

Preparation:

Preheat the oven to 400°. On a large baking sheet, toss the broccoli florets and stems with 2 tablespoons of the cedar nut oil and season with salt and pepper. Roast the broccoli in the oven for about 30 minutes, tossing halfway through, until browned and tender.

Meanwhile, in a small skillet, toast the cedar nuts over moderate heat until light golden all over, about 4 minutes.

In a small bowl, whisk the lemon juice with the shallot and the remaining 2 tablespoons of cedar nut oil; season the dressing with salt and pepper. Scrape the broccoli into a serving bowl. Add the dressing and toasted cedar nuts, toss well and serve.

RAVIOLI PASTA SALAD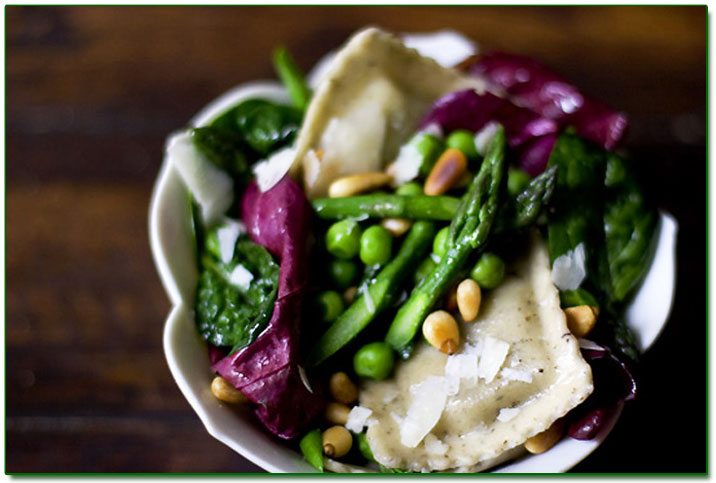 Ingredients:
- 1/2 pound ricotta-stuffed ravioli
- 1 bunch thin asparagus, cut on deep bias (angle)
- 10 ounce bag organic peas, thawed overnight in refrigerator
- 3 - 4 big handfuls baby spinach, washed (any stems removed - optional)
- a couple splashes of cedar nut oil
- 1/2 cup cedar nuts, toasted
- fine grain sea salt
- Parmesan cheese, for garnish

Preparation:

Prep all of your ingredients ahead of time - cut asparaus, wash spinach, etc.

Into an extra-large pot of well-salted boiling water add the raviolis. After a few minutes, when a couple of the raviolis begin to float, add the asparagus and peas. Because the asparagus is thin and the peas aren't frozen, you'll need to cook them only for about a minute - really quick, just enough to brighten up the peas and give the asparagus a touch of tenderness.

Drain everything into a large colander. Immediately transfer to a large bowl, add the spinach and cedar nuts, and gently toss with a couple big splashes of cedar nut oil and a pinch or two of salt.

Serve in a big bowl or on a simple platter with a bit shaved Parmesan crumbled on top.

Serves 4 to 6
http://www.101cookbooks.com/
http://www.foodandwine.com/

CEDAR NUTS CAN BE SUBSTITUTED WITH CEDAR NUT FLAKES.
For more recipes please click here

For Educational purposes only
This information has not been evaluated by the Food and Drug Administration.
This information is not intended to diagnose, treat, cure, or prevent any disease.
These articles come directly from researchers and are passed on to everybody. The company assumes no liability for any content in these articles.

For more great articles go to http://www.ringingcedarsofrussia.org/cedar_nuts_and_ringing_cedars_information.php